Local SEO vs global SEO: What strategy best suits your company?
Staying local or going global with your SEO strategy requires understanding what strategy works best for your business. Read this blog to discover both benefits and see what road you should take.
If you were thinking your online brand need not conform to locational boundaries, then you should re-evaluate the power of SEO (search engine optimisation).
Because whether you're a local HVAC specialist in Solihull or industry-leading sourcing and distribution company, growing your business organically requires a specific global or local approach.
The question is, which strategy is right for your business?
"Your business is only as profitable as it is visible."
Local SEO is a strategy primarily used by (you guessed it) local businesses with ties to specific areas and regions. It works by optimising website pages to generate traffic before boosting brand awareness in appealing to local searches in your area.
By incorporating keywords targeted to your business's specific location, the chances of your website ranking higher on a search engine results page (SERPS) increases. And the higher you rank (position zero being the crème da la crème), the more organic traffic your website receives.
Global SEO is a strategy primarily used by businesses that offer products, services, and information worldwide. Remember, you don't need to operate on a national/global level to utilise a global SEO strategy.
Because while you may be based locally, what you offer can be received and appreciated by worldwide audiences and consumers.
By using SEO tactics like geo-targeting and other localisation signals, businesses can target various customers from numerous places around the world.
What are the benefits of local SEO?
Don't worry, by restricting your SEO to a local area, you're by no means limiting your business opportunities. Let's explore the advantages of why local SEO can work for you in more detail.
What are the disadvantages of local SEO?
Naturally, it's fair to say that local SEO contains the odd moot point here and there. Let's explore:
As beneficial as positive reviews can be, the opposite end can draw equivalent side effects. Yep, if you're not careful, things can get ugly and even a bit personal.
Where local SEO shrinks the gap between customer and business, the relationship becomes more personal than that of a global outfit.
So when people receive a 'personal' experience, whether that's drinking a cup of lukewarm coffee in a café or speaking to an abrupt receptionist, online reviews can cancel out your hard-earned online authority by negatively impacting a website's reputation and visibility.
What are the benefits of global SEO?
Now we're stepping onto the global stage. With the world at our feet, let's discover the benefits:
If your brand has always dreamed of being a worldwide name, then global SEO can turn that vision into reality. Unlike local SEO, you're not limited to physical boundaries with global online interconnectivity suitable to your purposes.  
You can target and acquire customers worldwide, building profit, connections, and reputation. While local SEO can reach your local area, global SEO can appeal to a worldwide audience. 
If you become established on a global SEO level, doors will open to assist in building local SEO campaigns. Having a broad sense of traditional SEO strategies can enable you to specify within certain countries, regions and cities.
What are the disadvantages of global SEO?
Even global domination comes with a few disadvantages. Here are a few to recognise before stretching your SEO strategy too thin.
More content required = more money spent
As great as it might sound, you can't simply copy and paste your website into different languages. Where your website might rank well in Sydney, it could be flopping in Saigon.
To pique the interest of all your international customers, you'll probably have to adapt and optimise your content according to the local audience of each country, creating new website pages for each.
Just ask any elite successful global brand. The price of world domination doesn't come cheap.
With a significantly greater target audience comes considerable competition. Unless you're a unique business with products and services no one else offers, you'll always have rival businesses working in the same niche.
Using broader keywords can make you a small fish in a big pond. Before reaching the summit of search engines, you may need to rank for niche keywords and take advantage of any keyword gaps available.
Local SEO vs global SEO: The verdict
Like an impartial mother of twins, it's easy to say that both SEO strategies are special in their way. But everyone knows that (deep down) you'll have a favourite.
In the end, it all boils down to what suits you and your business best.
If you're a business that offers products and services locally, then local SEO is for you. Building online authority in the local market will increase footfall into your shops or generate deliveries of your products and services within your local area.
Once established, you can expand your business further and then begin thinking of how you take on the world.  
Global SEO, on the other hand, works best for businesses unrestricted by location(s). For example, if you're selling goods or services that can be bought and used internationally, your location doesn't matter to your consumers.
Regardless of your stance, your website must be quick, accessible, and informative for your user with well-researched, relevant keywords. Achieve this, and no matter your SEO position, you have a strong contender against local or global brands within your industry.
Determine what SEO strategy makes you visible online and watch your traffic increase and profits rise.
Alternatively, you could stick to national SEO. Although it's still tough to rank above other competitors in the country, it can reduce the need for page translations, more content and separate websites.
For local SEO or global SEO, choose eighty3 creative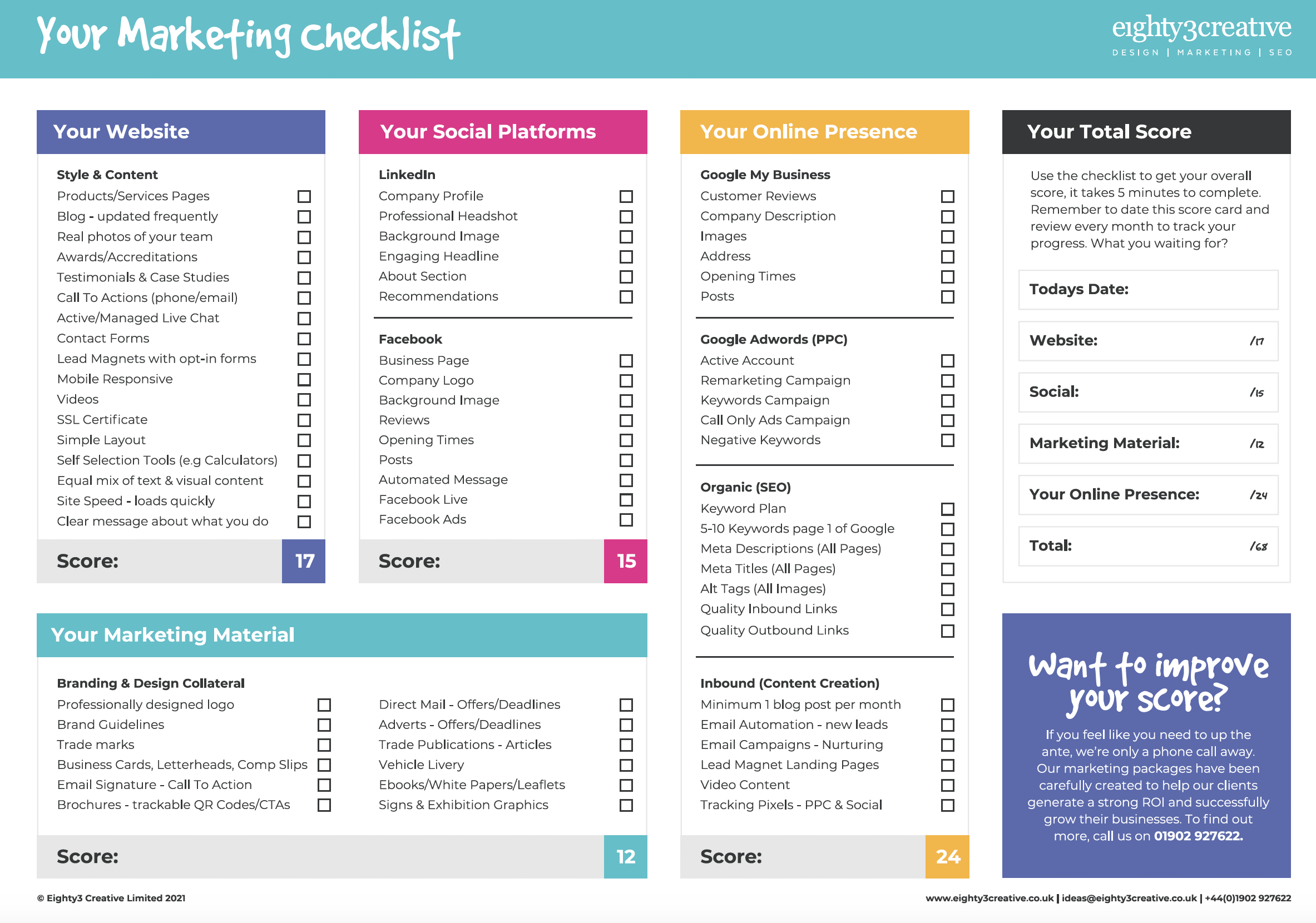 Marketing Checklist Download
Score your marketing activity & plan for 2023
Plus, sign up to our newsletter to keep us up-to-date