When should you update your website?
Updating your website increases traffic and generates conversions. Discover the signs for when you need to update and learn how to improve your web design.
The question, "How often should you update your website?" can be answered with another question…
"How long is a piece of string?"
The truth is your website should be updated whenever it requires updating.
Updating a website depends on your website/business model and how updating it serves your user and business needs.
To begin to understand when and if your website needs updating, you need to honestly assess your website performance, design, and optimisation features.
Why should I update my website?
The importance of updating your website cannot be underestimated. Think of your website as a shop window for passing browsers.
Will they stop and look?
Can they see what they're looking for?
Do they want to find out more inside?
A website works the same way. People spend hours browsing the internet, looking for services, products, information and entertainment. If you have the goods, displaying them effectively on your website is key to generating more purchases, sign-ups, and form submissions.
Secondly, updating your website will prevent security breaches, while upgrading your content and UX (user experience) features will help increase traffic and conversions.
Also, having a poor-performing website, whether it's loading speed, unattractive design, or poor content, can severely affect your bounce rate. Every time you update your website, aim to improve the UX and offer valuable information with simple, attractive, and fast navigation.
How often should I update my website?
Now you comprehend the importance of updating your website, it's time to work out whether it needs refreshing or a complete overhaul. Understanding when and why to update can be triggered with these initial signs:
When you just typed in your website into the URL and pressed "Enter", how long did it take for your website to load?
Two seconds? Three?
Well, unless you have a weak Wi-Fi connection, fulfilling consumers' expectations should take no longer. 40% will wait no more than three seconds, while a two-second delay in load times results in 87% abandonment. 
So, loading times are your first strike and most crucial website performance metrics. Improving loading times can be achieved with the following points:
Use compression to reduce CSS, HTML and JavaScript files bigger than 150 bytes
Optimise code by removing unnecessary words, space, characters, and punctuation
Reduce redirects
Remove render-blocking scripts
Enhance server response time
Optimise imagery
Taking these steps across your website will reduce the loading times, enhance the UX and keep users from abandoning your website. Loading times also contribute to SEO performance. (More on this later.)
Your business has evolved
When users visit your site, they want to see the brand of the present day, not the older version. So, if your business has progressed, you should update your website content and provide users with information relevant to the present, not the past.
Installing CMS (Content management systems) is a way to update your website content without the need for recoding. Upgrading the content will empower your marketing team with fresh content that can be repurposed and optimised for SEO incentives too.
Want to hear something scary? According to Review42, 61% of users will never return to a website that's not mobile-friendly, with a conversion gap of 270% between mobile and desktop.
Just because your website performs well on desktops doesn't mean you can afford to have a less advanced version for mobile devices. In 2021, there were 7.1 billion mobile users, with smartphones generating over 54% of global website traffic. 
Check your website is mobile-optimised with Google's mobile-friendly test tool. If it requires optimising, try:
Applying custom CSS (grid layout, size percentages, media queries, spacing)
Using responsive themes and plugins
Testing core web vitals (loading times, first input delay, cumulative layout shift)
Optimising pop-ups
Using a reliable web host
Remember, mobile optimisation waits for no brand. Ensure your website functionality is up to speed across all devices for users to enjoy your website anywhere, anytime.
How often should I update my website for SEO?
Search engine optimisation (SEO) is never-ending. We suggest you update your website for SEO every month. This process includes uploading new content, backlinking and optimising meta-titles, tags, images and headers.
Other SEO factors that will affect your website performance include mobile optimisation, internal search features with proper indexation, URL structure, links and design. 
Technology moves fast, and nothing constantly evolves like the largest search engine in the world, Google. Some say Google changes more than it stays the same, with industry specialists suggesting its search algorithm changes 500 to 600 times a year.
While your website doesn't need to update as fast as Google, it pays to always look out for updates so you can optimise your site for SEO purposes.
6 Questions to ask when developing a website
If you think your website needs an overhaul or you've had your existing one for more than four years, it's time to develop a new one. But before you invest, here are some questions to answer so you reach the best result:
1 – What business goals was my former website not reaching?
2 – What will users accomplish on my new website?
3 – How will I measure success in comparison to my old website?
4 – What do I like and not like about my competitor's websites?
5 – What is the most important call to action (CTAs) on my website?
6 – What valuable information can I offer my user?
Building a new website that will enhance your business growth will depend on answering these questions correctly and using the answer to direct your website development.
SEO, loading times, and mobile optimisation are all crucial. But the main thing is upgrading your website in line with your brand identity, business goals and target consumer.
Speak to one of the West Midland's leading website developers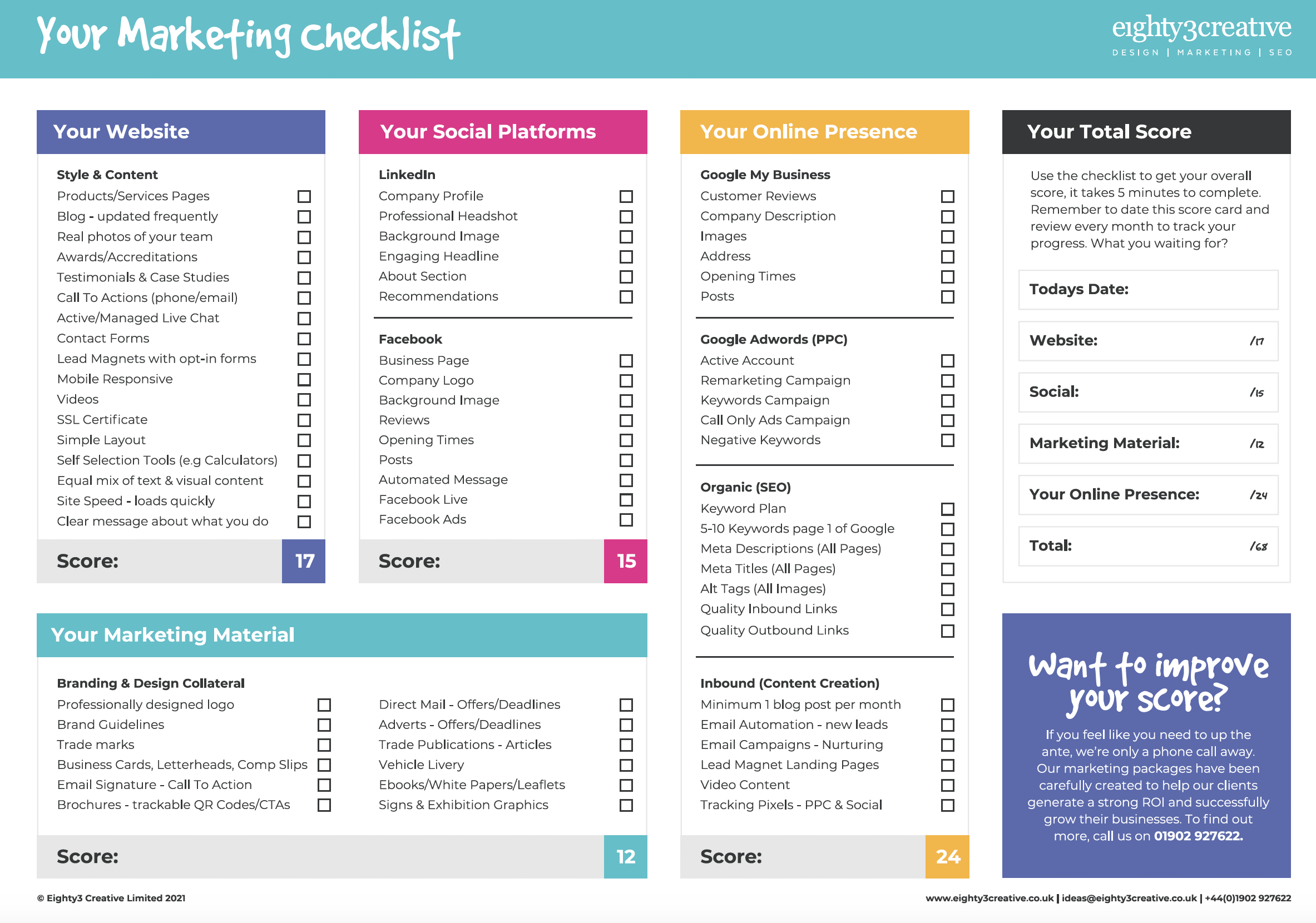 Marketing Checklist Download
Score your marketing activity & plan for 2023
Plus, sign up to our newsletter to keep us up-to-date