Barton International is an industry-leading sourcing, supply chain management, stockholding, and distribution company with a legacy of over 100 years.
Since 1898, Barton International has designed, co-designed, and manufactured countless commonplace products for their vast number of clients across various industries. The business primarily targets supply chain management of custom steel fabrications and other materials including steel presswork, fasteners, technical plastic foam and rubber sealing products.
Despite Barton's International's vast history and global reputation, the business required a brand-new website to enhance its online presence and start acting as a catalyst for future digital marketing campaigns.
Client
Barton International
Work
WEB DESIGN & DEVELOPMENT | BRANDING
View Site
The Brief
Barton International needed a brand-new WordPress web design to showcase their business before launching their brand with a digital marketing strategy.
It was crucial to understand every aspect of the Barton International supply chain, from the history to the services they provide. With such a rich quantity of products and capabilities covering various markets, it was important to create a web design that clearly showcased them in all their glory.
It was also essential that the website created the ideal impression of professionalism, reliability, and experience associated with the business. The vast history of Barton International makes it a prominent name in the industry and we wanted to ensure this was translated onto the web pages.
Barton International has made its name by delivering a broad range of quality products to its clients at the best rates possible. To factor in these values with the bespoke nature of their services, we needed to consider the user experience (UX).
Achieving these goals with a comprehensive web design would then lead to the next stage in the process – digital marketing.
Marketing any brand online requires having a user-friendly, attractive, and effective website to call upon. Obtaining the correct content through the website's TOV, visuals, typography, and the overall design could then feed into the marketing content to establish a consistent brand identity.
Once the web design was underway, we could begin on the various marketing solutions for the company, including writing SEO blogs.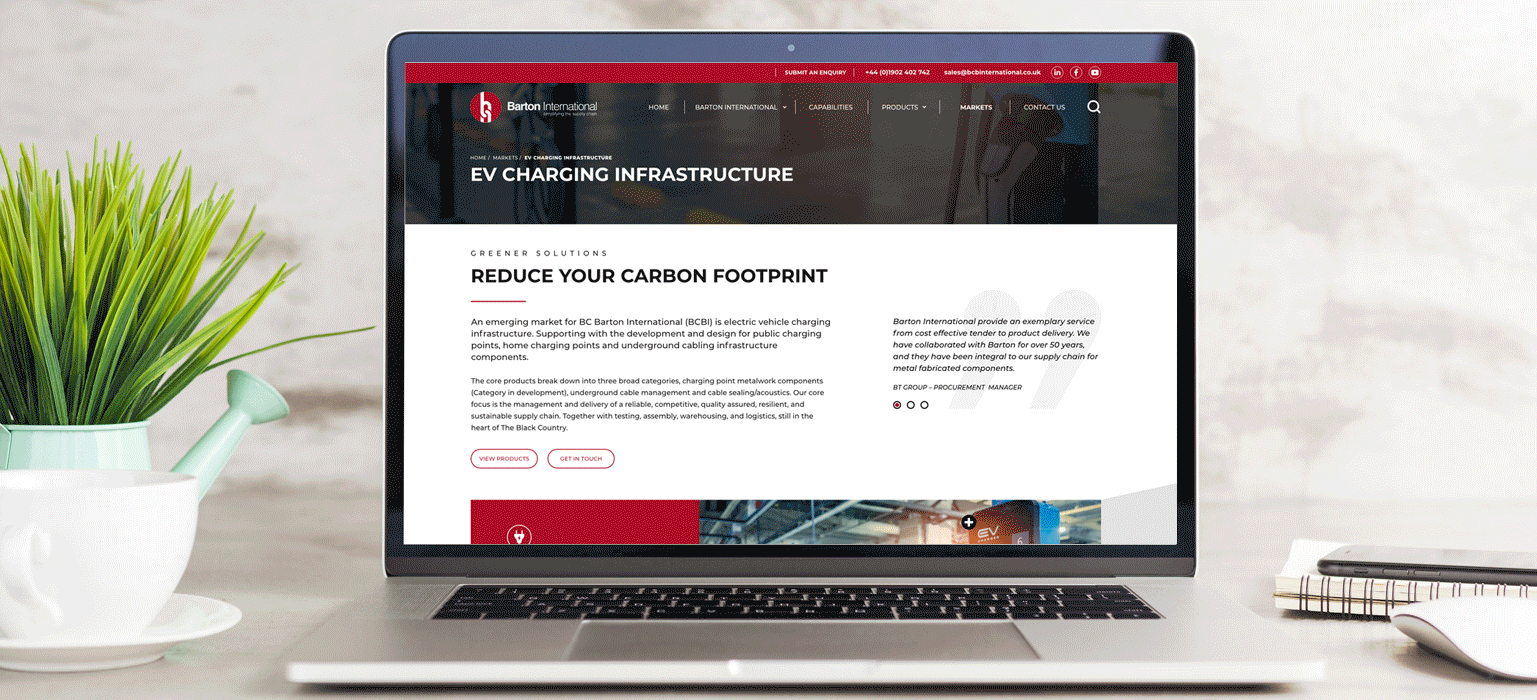 The Result
Barton International's new WordPress web design has given them the platform and confidence to develop a robust digital marketing strategy in one complete package. 
Barton International's slogan is – "simplifying the supply chain". It was vital for us to translate this core value onto the website. We achieved this through a simple, user-friendly navigational bar, highlighting the various functions of the business.
Each section would drop down in a large white bow, clearly distinguishing between each component through bold red title text and black font for the content below.
We chose three main brand colours – white, red and black. These colours best captured the simplicity, professionalism and company's commitment to supplying their clients with premium products for reasonable prices.
The logo shows a simple white chain graphic on a red background. Once again, it highlights the simplicity and strength of the brand. Due to the company containing so many components, our mission was not to overwhelm the user with too much information.
In light of this, we carefully segmented each business element and made sure there was enough white space to keep the website looking clean. We also placed top-quality visuals, such as video content to showcase the brand's identity and help maximise visitor engagement.
Now, the website flows from top-to-bottom, with imagery and icons breaking up the text and natural colour transitions from red to white. The website's success has given Barton International the platform to roll out a digital marketing strategy.
The authority in our SEO blog content aims to drive organic traffic to the website while increasing overall brand exposure and dominance in the industry.
Do you need support with your website design, branding and digital marketing? 
If you're interested in a complete website design, branding and digital marketing package, we have the expertise and track record to support you and your business.
You can contact us today by phoning 0121 389 3033 or emailing ideas@eighty3creative.co.uk. Follow us on Facebook, Instagram and LinkedIn.