A business owner's guide to the cost of branding
Whether you're launching a new company or looking to give your brand a fresh new look, understanding the ins and outs of branding costs is essential. Here's everything you need to know.
Unless you've clicked on the wrong thing, you're reading this because you want us to answer, "how much does branding cost in the UK?". The good news is we're going to do exactly that.
We haven't shied away from the facts. We've done the unthinkable and discarded the British unspoken rule of never mentioning money.
So, without further ado, here's a breakdown of the costs of branding and rebranding. 
Branding is an important part of building a business and capturing the imagination of your target audience. Whether you're selling a Wolverhampton Wanderers football shirt or a Cadbury's chocolate bar, your audience is buying into the brand's identity, reputation and values. Stackla recently found that 88% of consumers state authenticity as the most important factor in deciding what brands they like and support.
Business branding has the power of telling your company's story and showcasing its personality without even saying anything. Take McDonald's for example. It doesn't matter whether you speak English or not, when someone sees the golden arches online or on a sign, they instantly recognise the company.
There's even the feeling of trust. Interestingly, 46% of consumers pay more for brands they trust. That's a pretty powerful statistic, especially if you're trying to flog premium goods or services.
Branding filters down to recruitment too. Top candidates want to work for businesses with a clear ethos and relatable values. And you must remember that your employees are your brand advocates. If you don't treat them right or inspire them in the way you market the business or talk about your team in social spaces, you'll find it hard to maintain and attract new professionals.
To illustrate the point, LinkedIn research states that 80% of talent acquisition managers believe employer branding plays a crucial role in their ability to hire top talent.
Ideally, you should think about establishing the overarching brand identity by asking yourself the following questions:
What are your brand values?
How do you want your target audience and employees to perceive your brand?
Why does your brand do what it does?
What steps are you taking to create a more sustainable way of working?
If you're feeling overwhelmed looking at all these questions, consider speaking to a local branding agency.
"Your brand is the single most important investment you can make in your business."
How much does it cost to create a brand from scratch?
The reality is money doesn't grow on trees. It's for this very reason that understanding the cost of brand design, website design and digital marketing should be an essential part of your budgeting process when you're starting a new business venture.
The average cost of creating a brand from scratch can cost anywhere between £1,000 to over £10,000, depending on:
What branding agency you choose
What branding services you need – i.e. logo design, brand identity creating, brand guidelines
What level of detail you want to go into when developing your brand identity and the size of your company – i.e. how many hours a branding agency needs to invest in your project
The cost of a logo design from a credible branding agency is around £500 to £2,000. If you're going to invest in only one part of the branding process, start with this one. Your logo design symbolises your identity and presence as a brand.
How much does it cost to rebrand a company?
The cost of rebranding your business depends on how many elements need updating. For example, if you have a website and a logo, but don't have any brand guidelines, you could save some money.
Once again, the average cost of rebranding a company is around £1,000 to over £10,000.
However, it depends on:
The cost of working with a branding agency
The cost of changing the assets, including signage, your logo design etc.
The amount of work required to rebuild credibility and trust within your local area
What's included in the cost of branding?
The cost of branding will usually consist of several deliverables:
A discovery session – The branding agency or consultant will get to know your business and its goals. During this stage, they will carry out initial competitor research and conduct an audit for rebrand projects.
Brand strategy – This is where the branding agency or consultant will establish brand values, positioning, story, tone of voice, pillars and mission. They will also do a deeper dive into competitor research and analysis. In exchange, you'll receive a document at the end.
Brand identity – This branding service is all about the doing. For instance, logo design, brand naming and messaging, marketing materials, signage and website design.
Brand guidelines – Brand guidelines ensure your brand is consistent in all communications. They outline how you should communicate, and things should look. Think of it as your branding bible.
Important things to consider in the cost of branding
When answering the question "how much does branding cost", there are a few things to consider, including:
Your location – Asking "how much does branding cost in the UK?" is considerably different than when you research the price of the same service in India and other countries. In some cases, an overseas branding agency will be a lot cheaper. But can you trust the quality? Probably not.
Your ambitions as a company – If you're planning on keeping your business small, developing a comprehensive set of brand guidelines isn't worthwhile. However, setting the tone from the start is imperative if you're looking to scale quickly.
How you want your brand to be perceived – Developing a brand identity and tone of voice is your opportunity to announce your company to the world. So, think about how you want to look and sound.
What do branding agencies do?
The million-dollar question, "what do branding agencies do?".  In a nutshell, branding agencies provide all the deliverables mentioned earlier, including:
A discovery session
Brand strategy
Brand identity
Brand guidelines
But the true value of using a branding agency is in the time they can save you and the quality of the work. There are many logo design maker websites out there, but do you know the psychology of colour and what your target audience expects to see in a brand?
A leading branding agency in the West Midlands, Staffordshire and beyond will do all the research you need to make a big splash when you launch or relaunch your company.
There's also the bonus of having an agency that can seamlessly integrate your branding with your marketing strategy.
At eighty3 creative, we offer branding packages, which can include a new website design and digital marketing campaign management. As a digital marketing and branding agency, we believe the key to generating an ROI is to develop a cohesive strategy across your branding, design and marketing. Not just design a logo or run one standalone PPC campaign.   
How much does a branding package cost?
The cost of a branding package starts from £1000 to £20,000. Although, it depends on the size of the business and the amount of work required.
Branding packages can include everything from logo design and brand guidelines to branding workshops and marketing material graphic design. You can then integrate this package with other digital marketing and website design services to create a robust and cohesive strategy.
Speak to a leading branding agency in the West Midlands and Staffordshire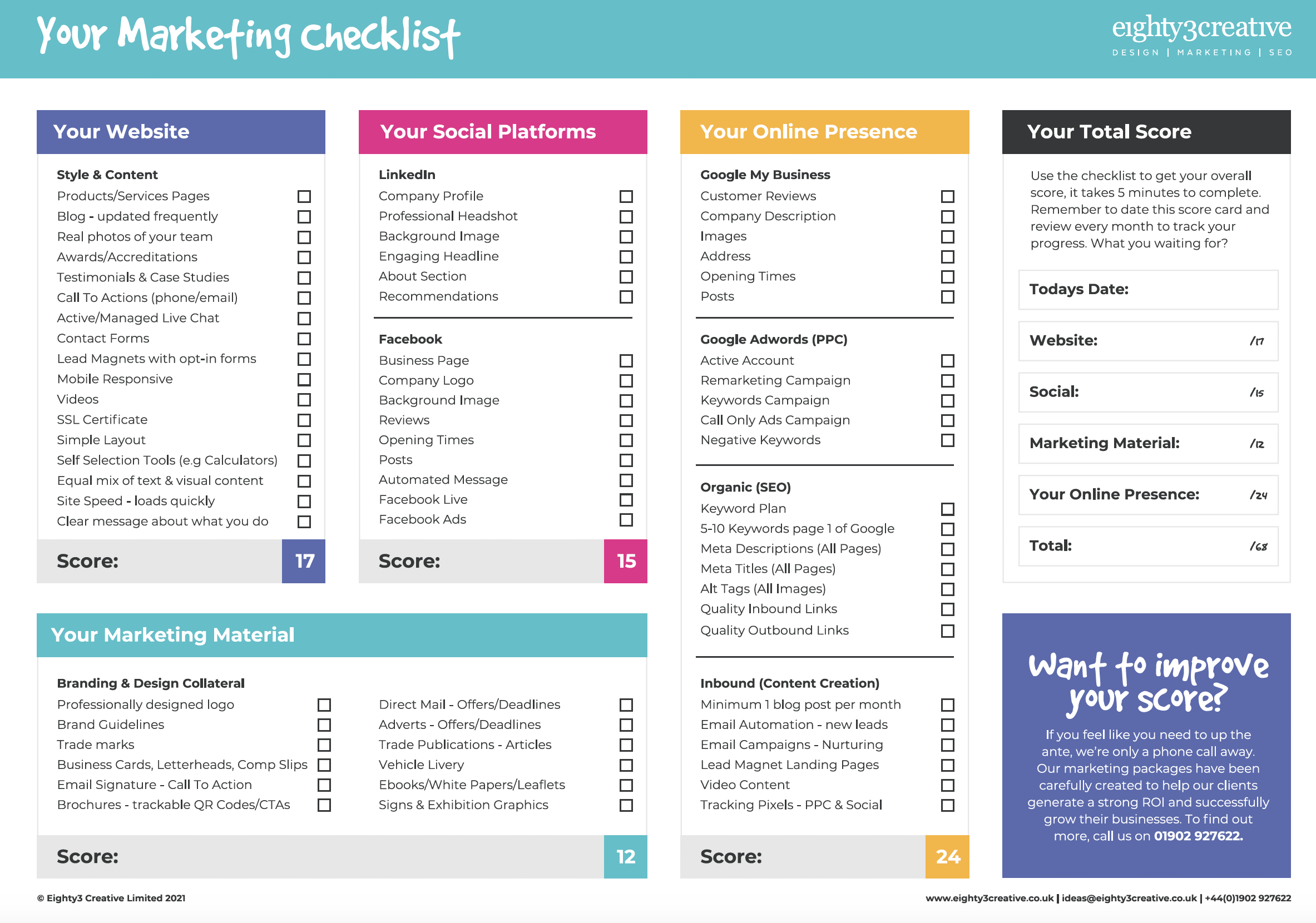 Marketing Checklist Download
Score your marketing activity & plan for 2023
Plus, sign up to our newsletter to keep us up-to-date