Why does SEO take so long to bear fruit?
The main issue with SEO is that it's hard to know how long it takes before it kicks in. Find out the main reasons, along with how to improve your SEO.
Did you know SEO has been around since 1997 before search engines like Google even existed?
This long and intrinsic history also owes something to the mysterious, million-dollar question every content marketer is aching to answer – "How long does SEO take to work?"
What we do know is that SEO works.
If you're new to it all, you should read this essential guide. You'll find an overview of the power and the purpose of SEO and gain a broader understanding of why it takes longer than other forms of digital marketing.
Why does SEO take so long?
SEO isn't for every business. If you want instant results, you might be better off exploring PPC, paid social and email marketing.
However, if you can master the art of search engine optimisation, you'll cut costs and generate a constant influx of leads every month without lifting a finger. It's a case of playing the long game and the backbone of any sustainable business.
While some experts wait around two months, it can take up to one year to work. On average, SEO takes at least 3-6 months to start generating positive results. Although, we recommend waiting at least 6 months before deciding on whether it's the right strategy for you.  
Here are the main reasons why SEO takes longer to gain results:
Improving your SEO will help you rank faster, but for it being free, it takes time and effort.
Researching keywords associated with your brand will help you strategise your content creation to help you start ranking. Ultimately, you must combine what your customers want with search engine best practices.
Here are some ways to improve your SEO:
Create authoritative content of quality and substance
Focus on cluster topics as a way of specialising
Regularly update your content
Maximise on metadata
Describe your imagery, video, and other media with alt tags
Use PPC insights
The way Google is constantly advancing shows that the most authoritative, engaging, and digestible content wins. Good SEO relies on quality. It's a long term driven goal which rewards the most patient, precise, and purposeful content creators.
Should I hire an SEO company?
If you understand the risks and rewards of SEO but are too busy running a business to devote time to keyword research and content creation, then perhaps hiring an SEO specialist is the way forward.
Once the content is published, the job is done. No more paying for content, just let it do its thing and update it every so often to keep it evergreen. The right SEO company can ensure your SEO content is competitive by being current and authoritative.
Are you interested in making your SEO work for your business? Then get in touch with eighty3creative. We have the expertise, enthusiasm and skills to boost your brand's SEO.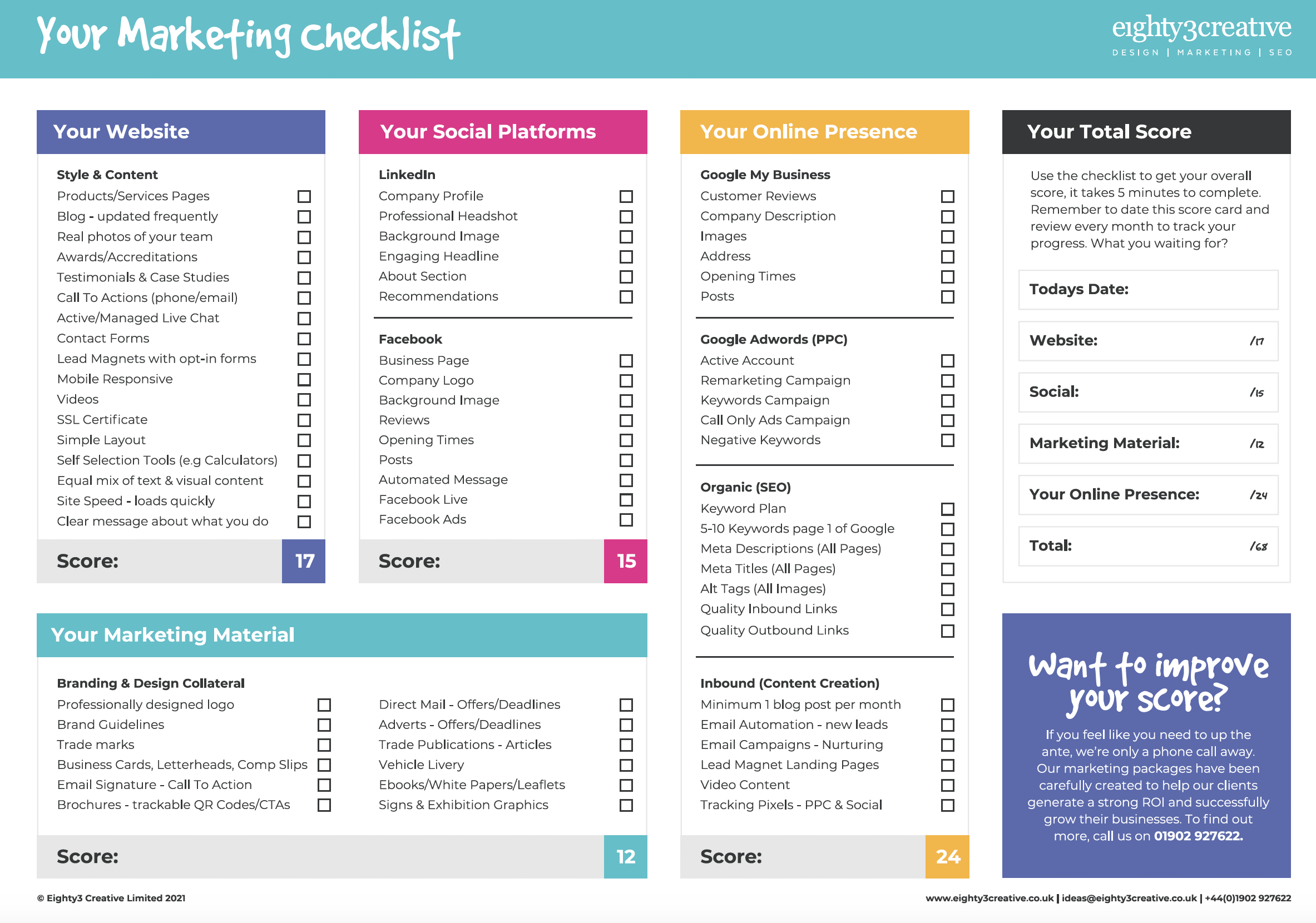 Marketing Checklist Download
Score your marketing activity & plan for 2023
Plus, sign up to our newsletter to keep us up-to-date