Mid-Tech Services Ltd is a preventative and reactive building maintenance company based in Solihull, West Midlands.
Founded in 2008, Mid-Tech has carried out building maintenance work for several notable companies, including Touchwood, Iceland Foods and The Bullring shopping centre.
From initially focusing on air conditioning, heating and ventilation maintenance, Mid-Tech have since expanded their service offering to include a full range of building and fabric works.
However, as SEO becomes more important in today's digital world, Mid-Tech needed a new website which not only increased organic traffic but also made a positive first impression on new visitors.
Client
Mid-Tech Services Ltd
Work
WEBSITE | COPYWRITING
View Site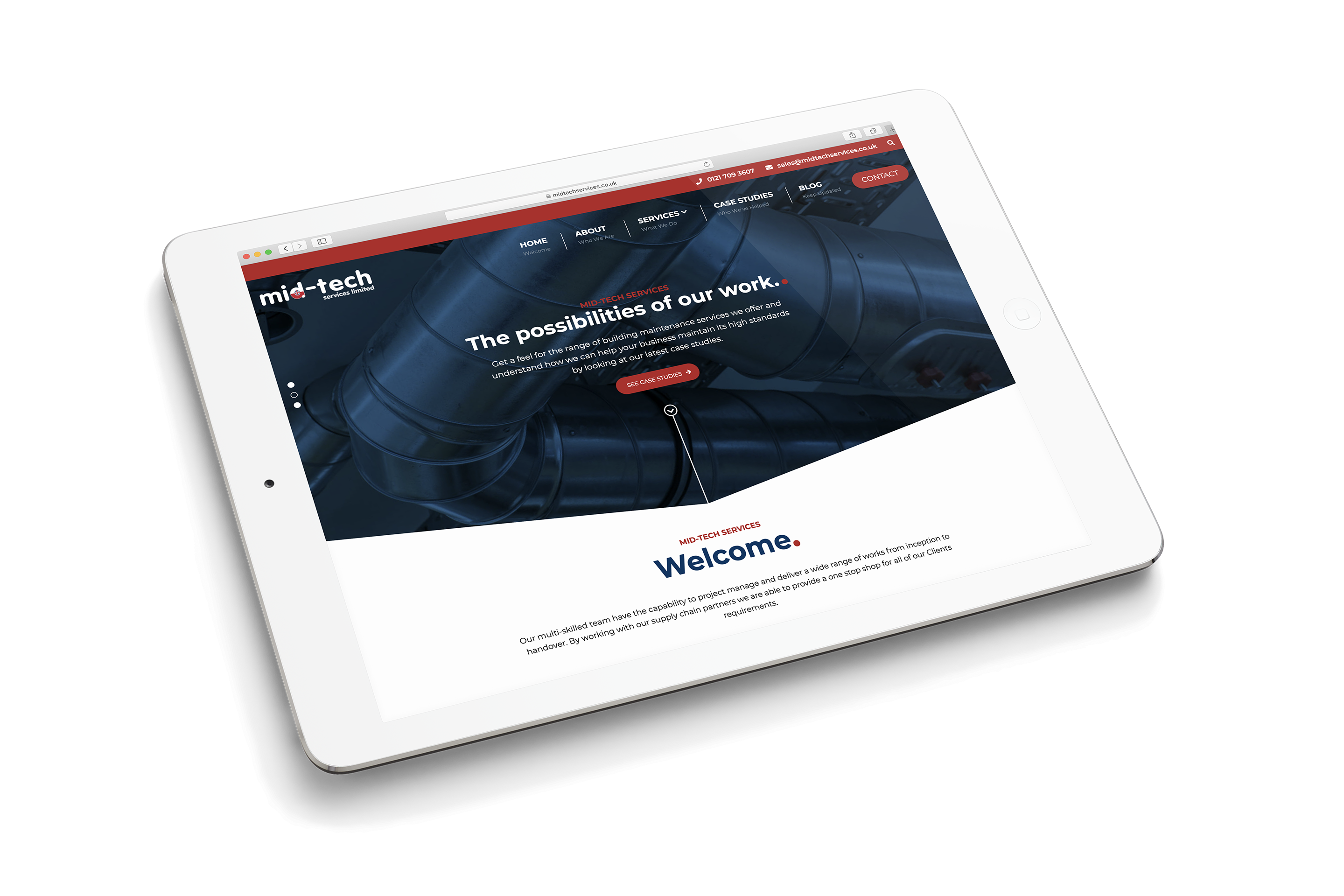 The Brief
Mid-Tech needed a professional brochure website design to improve the user experience and SEO website content to optimise its search-ability.
Mid-Tech's old website was based off an outdated templated design. The navigation bar was clunky and the layout was uninviting.
After expanding into other areas of preventative and reactive building maintenance, they found themselves competing with more UK businesses with better websites.
Our job was to modernise the Mid-Tech brand and position them as the 'go-to' business in their industry. The website design needed to be professional, SEO-friendly and user-friendly.
The plan was to use it to push their brand via their website, leaflets and documentation created for clients.
The Result
The brochure website design we designed for Mid-Tech enhances the user experience (UX) and the copywriting has drastically helped improve bounce rates.
One of the biggest differences with the new website design is the layout. With the old website, there were content and image silos which ruined the natural flow from top to bottom. The body copy had no breaks, making it appear dull and text-heavy. The call to action boxes also felt contrived and out of place.
By rethinking the layout, we've been able to use the red and blue colour scheme to greater effect. Call to action buttons uses colour to help them stand out, while the blue overlay on the hero background images creates a rich, premium feel.
Using shaped blocks, icons and scrolling banners has also helped split up the content, create a better user journey and add an interactive element to the design.
Another notable element is the navigation menu. Using Montserrat font against a white background and including simple divides between each tab has given the whole menu more of a presence and purpose. Users can now easily find what they want all in one place, instead of relying on unattractive navigation boxes on the side of the screen.
To enrich the user experience and make the messaging clearer, we also created fresh content for most of the website. This included conducting SEO research to ensure keywords were used to give Mid-Tech the best possible chance of being found on search engines.
As a result of the new website design and copy, Mid-Tech has generated several new enquiries and seen a significant improvement with bounce rates. This indicates that visitors are finding the copy more engaging and the design a lot clearer.
Need help building a new website or writing website content? 
If you need a new website design or require SEO website content, we're here to help. Not sure how much a website costs…take a look at this blog 'How much does a website cost to build?'
Get in touch with us today by phoning  0121 389 3033 or emailing ideas@eighty3creative.co.uk. Follow us on Facebook, Instagram and LinkedIn.