Proven digital marketing methods for manufacturers
How do you market a manufacturing company? Discover proven strategies for manufacturers across the various digital marketing channels, including PPC, SEO, content marketing and social media.
Manufacturing once functioned through a traditional business arrangement in the physical form of referrals, trade shows and various networking events. But times have changed. Now, digital marketing plays an integral role for manufacturers by connecting them with distributors, wholesalers and customers.
But with so many channels to navigate within increasingly competitive sectors, how does a manufacturing company market its business effectively? Let's explore.
Digital marketing for manufacturers
Digital marketing can encompass various styles, strategies and techniques in both inbound and outbound forms. Each element provides pros and cons, so a dynamic digital marketing strategy across all channels can hugely benefit any business.
It's about knowing which digital marketing method suits your business or combining multiple to provide a complete package that covers all areas. Various elements of digital marketing include:
Content marketing
Social Media
Websites
SEO
PPC
Email marketing
Digital marketing has become crucial for manufacturers because of the power shift from the seller to the buyer. Thanks to the digital world and the vast power of the internet, buyers don't need a salesperson to persuade them to invest; they can find the answers for themselves.
Digital marketing is an excellent way for manufacturers to educate their consumers on the complexities of their products and services. It can also improve brand awareness, lead generation and sales.
At eighty3creative, we offer a complete digital marketing package to our manufacturing clients, enabling their marketing to excel across all channels. For example, we helped Ramsay Cellular Sealing Solutions rebrand and create a new optimised website and effective content marketing strategy.
Social media for manufacturers
There are two forms of social media marketing you can take:
Paid – Paid ads allow you to market your brand on pages and 'Feeds' with targeted precision for the consumer or business.
Organic – Organic posting costs nothing and can appear in the 'Feeds' of your followers and even your followers' followers, depending on the engagement and platform.
To have an effective social media marketing strategy as a manufacturing company, you need to use paid and organic social to their best effect. Organic is a good way of maintaining brand awareness while communicating a consistent brand identity. You can also use organic posts to repurpose former content or promote other digital marketing, such as blogs, infographics, case studies and website launches.
Utilising video content on your social channels via organic posts will also help to humanise your business. This solution will help separate your content from the sales objectives you'll undoubtedly display within your paid advertisements.
On the other hand, paid social can help you target those hard-to-reach customers on social platforms your business is less familiar with. So, the vital thing for the marketer is to know who their target audience is and what social channel they will be present on.
Content marketing for manufacturers
According to the latest research, 67% of manufacturing marketers claim a lack of time is the main reason for poor content marketing results. In this new digital age, content marketing plays a key role because research has been made both accessible and necessary by the internet.
Now, before buying products, customers will do some research before making a decision.
If your content reaches your customer while they're in the research phase of their purchase journey and is engaging, informative and offers a solution to common pain points, you can turn online window shoppers into paying customers.
Clever content marketing will position itself within this research phase by providing consumers with solutions to their queries. For example, a well-written and optimised blog highlighting everything your customer needs to know about a product or service.
Email marketing and social media content also fall under the content marketing umbrella. A cohesive strategy will ensure you are consistent and thorough at every customer touchpoint.
Search engines are the most popular way consumers search for products worldwide (40%). Nowadays, if anyone wants to find something, they use Google. And if their answer sits at the top of that first page, then the search is already off.
When it comes to SEO best practise, the fight for the top spot on SERPs (search engine result pages) is the main priority. If you can get to the top (and stay there), then your business will continue to generate leads every month for the foreseeable future. However, it's no picnic as competition remains rife. 
SEO applies the same logic to the manufacturing industries. It will help your business rank at the top of search engines by aligning your content with your customer's needs. You can achieve this by focusing on:
Keywords
Backlinks
Fixing broken links
Domain
Location
Just like organic social media marketing, SEO is also free. But when it comes to results, it's no overnight thing. SEO can take between six months to a year to have an effect. So, if you want something that's going to promote your business fast, you should opt for PPC.
At eighty3creative, we understand the opportunity for SEO in the manufacturing industry due to the technical search terms and keywords required for specific products.
We demonstrated this expertise with our client Mid-Tech. Our specialist SEO services boosted their brand awareness and significantly increased visits to their website.  
PPC in manufacturing industries presents a quick way to get your business exposed on website pages or at the top of SERPs. Unlike SEO, PPC offers quick results. But it does come at a cost. Every time someone clicks on the ad, you pay a fee, so you need to assure you budget wisely for any PPC campaign and set them up properly.
PPC works like SEO in that you want to target highly relevant search terms with your PPC ads. Due to the technical nature of the manufacturing industry, key search terms can be exposed to enable a brand to fire up the rankings.
A PPC strategy can work wonders when applied correctly. For instance, our creative digital agency tracks seasonal trends, which means we adjust bids and schedule ads at certain times and in specific locations for our clients to target their ideal consumers.
Speak to the manufacturing marketing masters
At eighty3creative, we have extensive experience in marketing for various manufacturing companies across the West Midlands and beyond.
Our expertise across the whole digital marketing range is why we offer proven packages to our manufacturing clients covering content marketing, SEO, PPC, website design, graphic design and branding. Over the years, we've discovered that combining strategies produces optimal results, such as SEO with content marketing and SEO with PPC. 
If you're interested to see how our manufacturing marketing prowess can take your brand to the next level, get in touch with us today.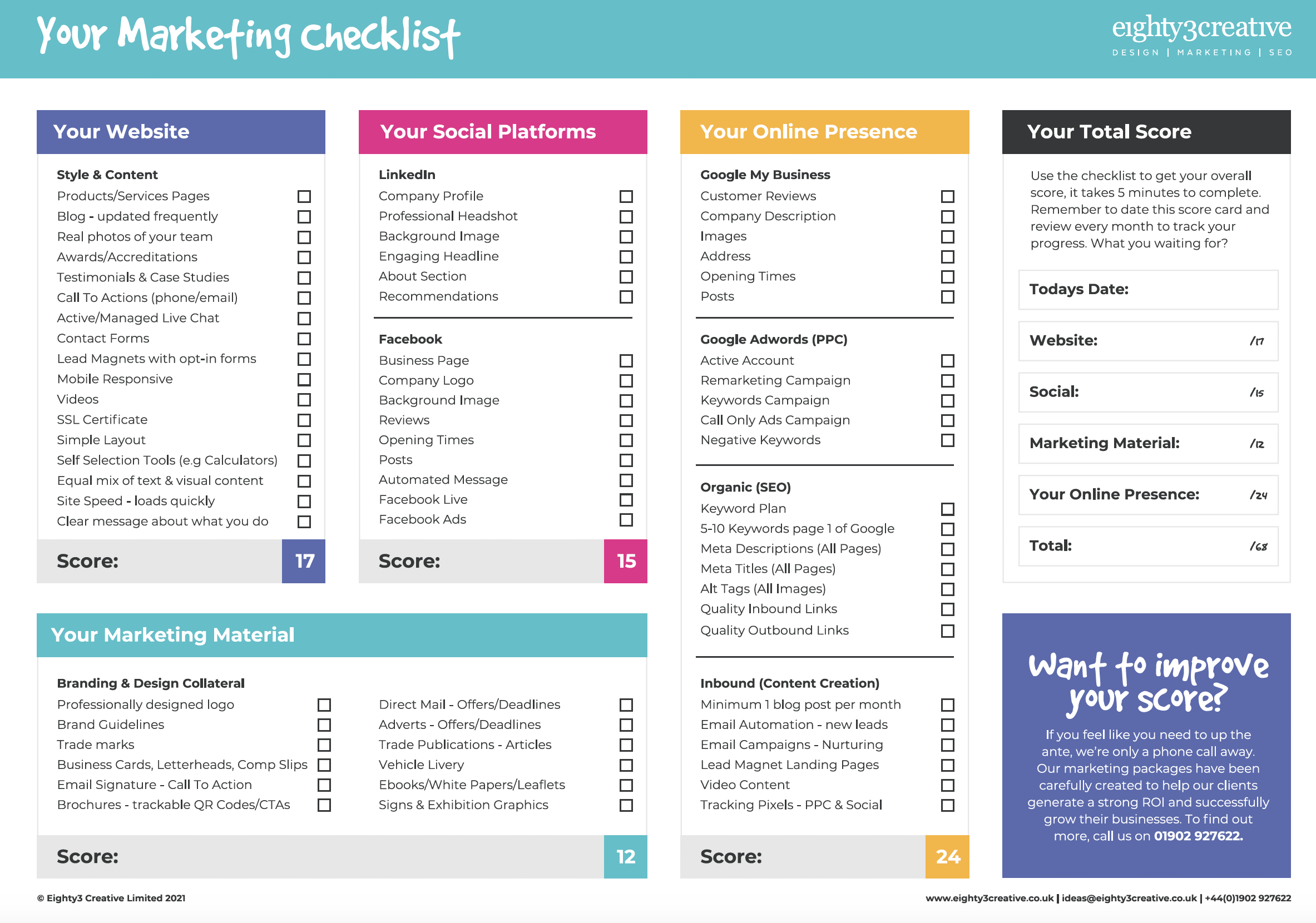 Marketing Checklist Download
Score your marketing activity & plan for 2023
Plus, sign up to our newsletter to keep us up-to-date