What does a brand strategy include?
Behind every great brand with purpose, meaning and direction, there are seven brand strategy elements. Let's explore.
Aspirational brands can create inspirational business stories. But no modern and successful company was born without a strong brand strategy.
Discover a definition for your brand strategy, why it matters and the seven key elements to ensure your brand identity stands strong with style and substance in the market.
Learn the 7 elements and understand why having a brand strategy will separate you from the competition.
What is a brand strategy?
An accurate brand strategy definition encompasses a long-term plan for a business to achieve its branding goals. Essential to the branding process, a brand strategy includes reaching your target consumer and defining how your brand is distinguishable from your competitors.
A brand strategy takes multiple elements that combine to result in an overall branding strategy.
The elements of a brand strategy go far beyond a logo, website or branded colour scheme. It contains numerous factors requiring a long-term vision built on quality application and consistency.
Why have a brand strategy?
Your brand strategy aims to generate awareness and develop a distinctive identity distinguishable from other businesses. All long-term elements of a brand strategy should combine to produce a consistent message, image and overall personality for your company.
Think of your brand like a walking, talking, human business. To gain trust, admiration and authentication, you must present yourself consistently while remaining attractive and showing a style specific to you. Trust is vital for your business and branding, with 46% of consumers happy to pay more for trusted brands.
Gaining this presence in marketing and advertising relies on delivering all the elements of a brand strategy. And by establishing an effective brand strategy, you also enable any new employee who joins your team to work within clear guidelines and essentially sing from the same song sheet as your business. 
Ideally, your brand identity will be so established that they know the vital elements of your brand strategy before they even walk through the door. All thanks to implementing an effective brand strategy. 
What does a brand strategy include?
Now we understand the definitions and importance. Here are the seven crucial elements of a brand strategy for your business to adopt.
And there's only one place to start. Your triumvirate of purpose, vision, and values:
How to develop a brand strategy
Developing your brand strategy will require applying these essential elements. There are no shortcuts here. The key is to create consistency and maintain quality.  
For example, while applying the necessary actions to justify your brand purpose, vision, and values, can you represent them in a single, simple slogan or tagline?
And while doing the necessary market research, can you also find avenues of collaboration with other businesses to help elevate your brand presence?
The critical part of developing a successful brand strategy is applying all the elements simultaneously. Each aspect works in tandem to construct a distinctive brand identity for your business. It is memorable to your consumer for all the right reasons.
Connect with a leading brand strategy expert in the West Midlands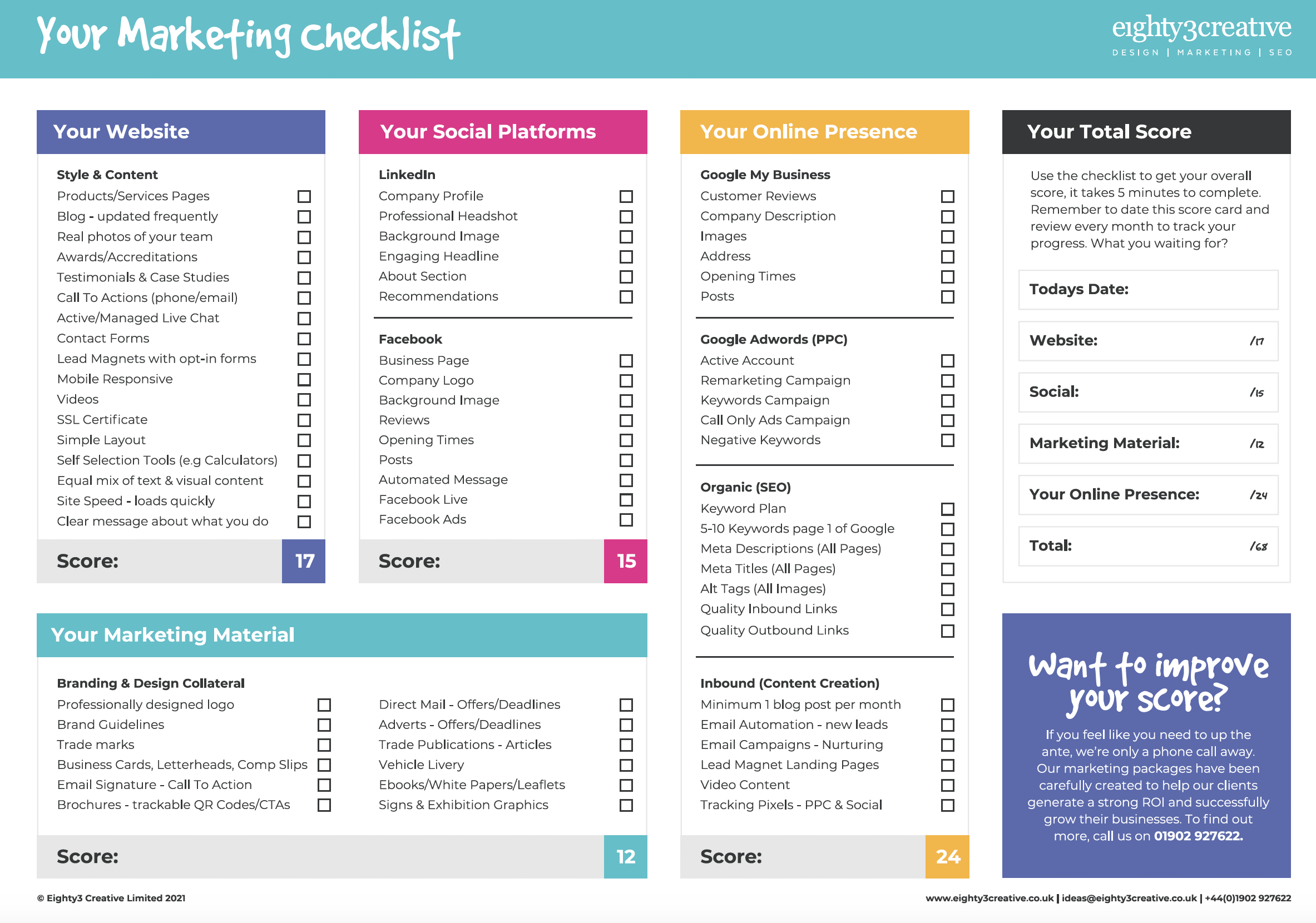 Marketing Checklist Download
Score your marketing activity & plan for 2023
Plus, sign up to our newsletter to keep us up-to-date