Do I need an e-commerce website?
With the online marketplace growing every minute, should your business invest in an e-commerce website design?
In the last year, the retail industry has had to make some major shifts. The flexibility of being able to purchase goods online has become more necessary than ever. For this very reason, a solid e-commerce website design is becoming increasingly important.
However, is it the right move for your business? In this blog, we cover some of the most important factors you need to consider before potentially investing in an e-commerce website design. Including:
Do you need an e-commerce website?
With 2 billion buyers using e-commerce websites to purchase goods, there's no doubt that it's a competitive market.
However, the pandemic has intensified this by forcing late adopters and laggards to make the transition.
Amazon marketplace is the dominant platform, with 66% of people starting their search through Amazon, compared to 20% through Google. With a smaller opportunity to grab a buyer's attention, your e-commerce website design needs to speak to potential customers.
According to Magento's Consumer Preferences Report, 51% of consumers say that the pandemic has changed their expectations of online shopping. Some of the standards required include:
Sustainability – over two-thirds want retailers to be environmentally friendly/conscious and 46% said they're willing to pay more to support this.
Safety – 47% say it's more important that a shop's website is secure and can safely store payment information.
Efficiency – 67% say they are likely to take their business elsewhere if they can't find products quickly or if they can't pay online.
In a constantly expanding market, with most purchases made on mobile or PC, there's a lot of choice for consumers. 75% of people say they've abandoned their digital shopping carts without completing a purchase due to slow loading speeds on the website. And 21% have done the same when faced with an over-complicated checkout process.
For your business to survive and thrive, particularly during the last year, you must be able to adapt. It's essential to stay up to date with the latest industry trends and avoid pitfalls such as those mentioned above. For example, websites considered to have an accessible checkout design can see an increase in sales of up to 35.26%.
For a while, the online shopping base was heavily weighted towards younger, potentially more tech-savvy customers. But since the beginning of the pandemic, 150 million people have shopped online for the first time.
People of all ages are searching the internet for deals and people of every age are expecting a simple and user-friendly purchase experience.
Pandemic or no pandemic, the online market is unlikely to slow down. Therefore, investing in a good e-commerce website design is a logical move.
Some businesses aren't equipped to raise their game in terms of customer experience. But if your business can, you'll begin to stand out from your competitors. Ultimately, businesses with sophisticated and smooth e-commerce website designs see the best returns.
Of course, there are some cases where an e-commerce website won't make sense. For example, a clean, easy-to-navigate website that covers the basics might be more than enough for a painter decorator. Or if you sell bespoke handcrafted products, automating the buying process isn't worth it.
To help you make the all-important decision, here are a few key points to consider:
Takeaways: Do I need an e-commerce website?
An e-commerce website is perfect if:
An e-commerce website isn't perfect if:
What makes a good e-commerce website?
If you're going to invest time and/or money into creating an e-commerce website, you'll want to make sure that it hits the mark in terms of design. There are four key questions to consider:
Is your site appropriate and honest?
Your site must be well-matched, in terms of presentation, to the products or services that you sell. Essentially, you want your potential customer to know within seconds what you're providing. Setting the right expectations by considering your target demographic at every stage of the design process is imperative.
If you've ever gotten to the checkout but then paused, wanting to check the reviews first, you aren't alone. 93% of consumers claim that online reviews determine their purchasing choices. Add honest reviews and testimonials to your site. Make the purchasing process easier for potential customers by showing them that they can trust your products.
Is your e-commerce website attractive and aesthetically pleasing?
Include a healthy dose of colour, images and videos where you can. Make your website as exciting and personal as possible. This way, users will be able to visualise the brand values and aesthetics that you're trying to communicate.
Though some text is vital, try not to overdo it. Keep it limited and utilise white space. Otherwise, you may overwhelm potential customers with too much information all at once.
Is your e-commerce website usable?
This is a sub-set of presentation. Nevertheless, it deserves its own point because it's absolutely essential in delivering a positive user experience. Make sure that your e-commerce website design is easy to navigate and compatible across different devices. Don't forget: 52% of global internet traffic comes from mobiles.
Is your e-commerce website secure?
As mentioned earlier, most buyers will be instantly put off if they feel as though your website is unsafe. With this in mind, you need to make sure all site visitors feel safeguarded and protected from interference via a recognised transaction process. A trusting customer is a customer that keeps coming back. Succeed in each of these four areas, and you'll have an e-commerce website that functions well and attracts new customers.
For a bit of e-commerce web design inspiration, take a look at this Woolery Forbes case study. We managed to bring their brand back to life and attract customers to their premium line of sweet English-Jamaican infused treats.

Is it worth hiring an e-commerce website design company?
Now for the business end. If you're committed to creating an e-commerce website for your business, it's time to think about who will take care of the design.
To put it simply, you have two choices: DIY or professional. As we've said, you know your business best. What suits one brand might not suit another. We've included a few things below.
Here are the pros of a DIY e-commerce website design:
Plenty of website builders are available and they offer a range of free and easily accessible templates.
It won't cost you anything other than time (excluding website hosting and domain costs).
You'll have total flexibility and you'll be able to make changes or test out new ideas whenever you like.
Here are the cons of a DIY e-commerce website design:
An amateur web designer will struggle to build a site that competes with, or outperforms, competitors.
A lack of experience might lead to unprofessional visuals and poor site loading times, putting off potential customers.
Understanding all the technicalities, such as enabling AMP and adding a structured data mark-up, is a complicated process.
SEO performance is hit and miss due to templated/duplicated websites with no original code. Google doesn't like duplicate code or content.
Creating a DIY e-commerce website for your business is achievable. But you should consider your options carefully. Weigh up the time you would save by outsourcing the work and the difference in quality between a professional website design and a DIY website design.
If you're looking to design a website from the ground up, we can help.
Using WooCommerce, we can seamlessly integrate an online shop into any WordPress website. So, whether you're looking to upgrade your existing e-commerce website, build one from scratch or just bolt on an online shop to your current WordPress site, we have a solution for you.
Curious about costs? Take a look at this blog for a detailed explanation. We offer monthly bundles, with no large upfront fees. For more information about our e-commerce website design packages, please get in touch.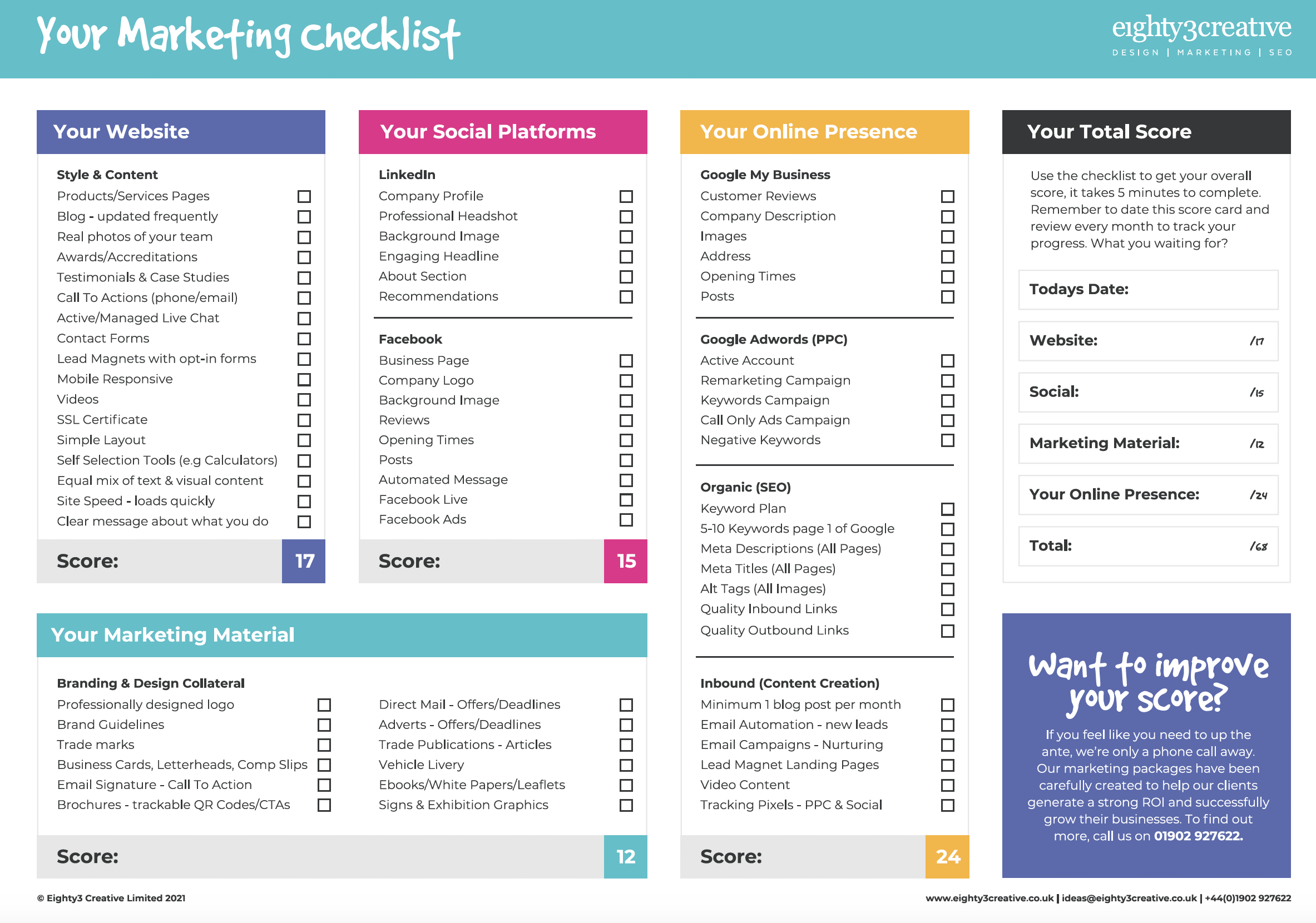 Marketing Checklist Download
Score your marketing activity & plan for 2023
Plus, sign up to our newsletter to keep us up-to-date