7 reasons to invest in a pay-monthly e-commerce website
Discover how a pay-monthly e-commerce web design and digital marketing package could revolutionise your online business and help you see a quick return on investment.
What is a pay-monthly web design package?
Pay monthly web design packages are an affordable way for your company to have an online presence. Instead of paying for a product upfront in one purchase, you pay monthly for a service.
This pay-monthly solution is a great way for small to medium-sized businesses (SME) to afford to operate their own website, whether it's a brochure site, one-pager or a fully-fledged e-commerce site.
The perks of a pay-monthly design package include:
No contract
No upfront costs
A professionally designed website
Ongoing maintenance
SEO optimisation and further digital marketing services
E-commerce website development packages
An example of a pay-monthly web design can be an e-commerce store. The difference between e-commerce and a typical website is with e-commerce, you allow your consumers to buy products and services directly from the website.
With online retail continuing to rise at an annual average of 23% worldwide, the incentive to upgrade to e-commerce has never been so pressing. 
From the point of view of the consumer, the three key reasons that have generated this rise are:
Sustainability – Over 60% of consumers want to become more environmentally friendly. A website omits a lot less damage to the environment compared with a physical shop.
Convenience – Now, you can almost guarantee everyone has a smartphone or some means of online access. For ease and convenience, shopping has now become as much a virtual experience as physical activity.
Choice – Shoppers have more options to choose from online without the need to physically investigate. Plus, the cost of storing items in warehouses is much cheaper than in retail spaces.
If you're a business that sells products or services and you don't have an e-commerce website, then there's a high probability you're missing out on online revenue and losing out to competitors.
Here are a few more benefits of having an e-commerce store:
Selling products with better profit margins
Reach a much larger audience online
Generate traffic to your website
Make money when you sleep
So, if you want your business to thrive, it's time to take the leap and enhance your brand online with an e-commerce website. Here are seven reasons why opting for a pay-monthly e-commerce website design service might be a smarter choice for you.
Reasons to Invest in a pay-monthly e-commerce website package
E-commerce website package pricing
An e-commerce website upfront can cost anywhere between £3,000 and £25,000, as well as the annual support and maintenance fees. That's why an e-commerce website pay-monthly package is a perfect solution for small to medium-sized businesses. As a service, your e-commerce web design will continue to function at an optimum without having to invest heavily in one upfront payment.
At eighty3 creative, we offer professional e-commerce web design pay-monthly packages from £1500 a month, with no large upfront fees. Our pay-monthly e-commerce web design packages include:
High performing e-commerce website
Robust development
Regular maintenance
Secure hosting/SSL certificate
SEO and Google Ad management
If you're interested in enhancing your business with a premium e-commerce design, get in touch. One of our experts will happily take you through our pay-monthly packages.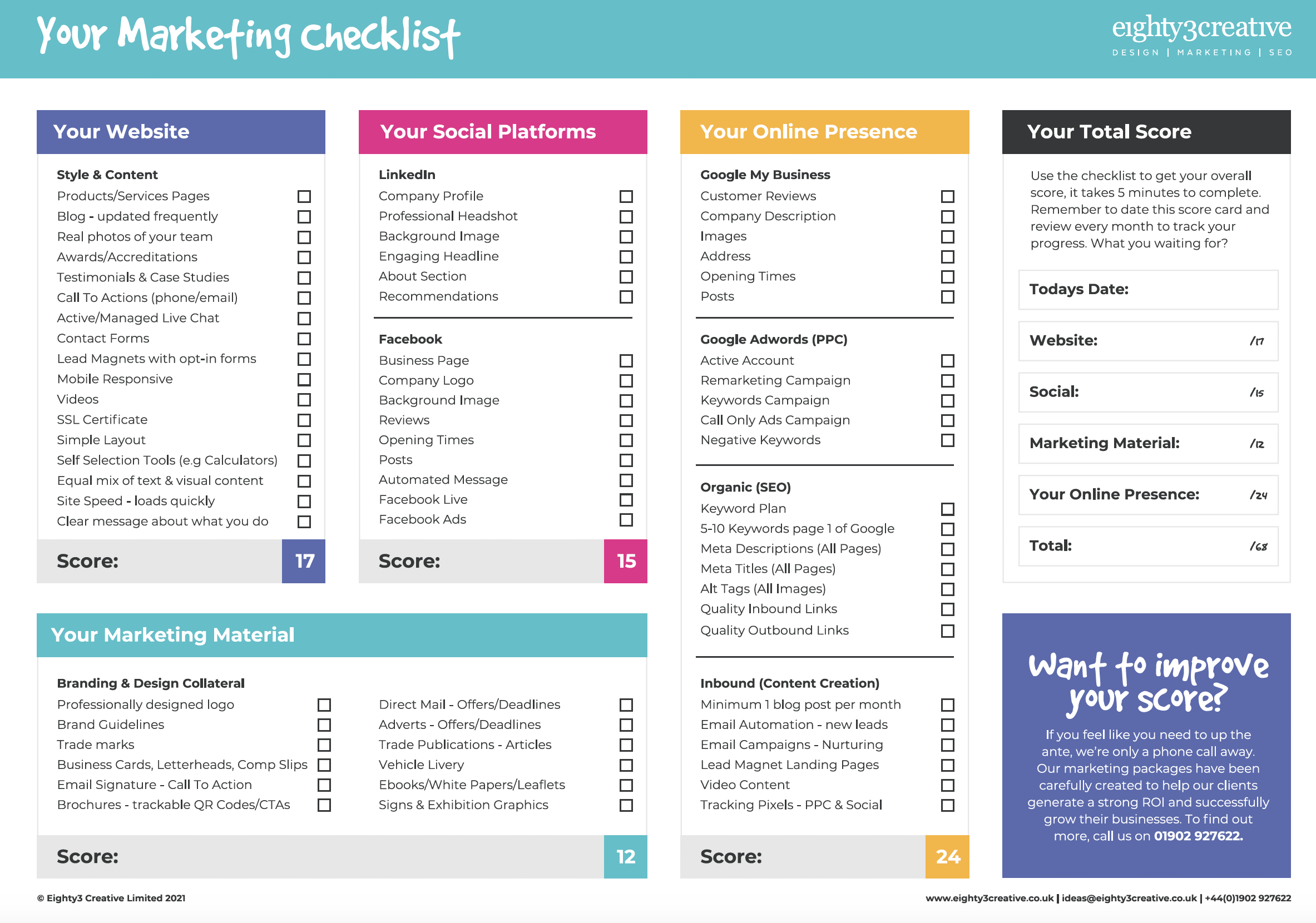 Marketing Checklist Download
Score your marketing activity & plan for 2023
Plus, sign up to our newsletter to keep us up-to-date