What businesses overlook when hiring a branding agency
If you're wondering how to choose a branding agency that's right for you, be sure to consider these vital elements. (They'll not only help you make more money, but they'll enable you to futureproof your business too.)
Branding is like the Ron Burgundy of the business world – It's kind of a big deal. It gives your business a purpose, meaning and direction. And from a sales perspective, it enables you to build a loyal community of customers who become your biggest advocates.
Branding is also your ticket to stand out in a saturated market. Research shows that the average person encounters up to 10k social media advertisements every day, and it takes between 5-7 impressions for them to even become aware of you.
But good brand design doesn't just happen by accident. It's the byproduct of a clear 7-point strategy and the right creative minds coming together, which is why many businesses turn to a branding agency.
The only problem is that there are many "cowboys" out there. And whether you're starting a new venture or are looking to rebrand, establishing a memorable and successful brand requires a certain approach. Something only a few brand design agencies offer. 
Wondering how to choose a branding agency that's right for you? Consider these elements before making the big decision to save you money and futureproof your business.
Why hire a branding agency?
Many businesses will hire a branding agency or freelancer to create a visual presence for their business. This service usually comes in the form of a new logo design, brand colours and typography.
But these elements only cover the basics of branding. To maximise your ROI and develop a brand people talk about positively, you need to go a little deeper.
A good branding agency will go beyond the fundamentals and consider the bigger picture, starting with the following points.
They can build your brand's value
A brand is something that people create. Sure, you can design the visuals, but it's useless if your target audience doesn't see your brand the same way you do.
Believe it or not, your audience won't always pick a brand for logical or rational reasons.
You need to develop a brand that will help you sell your services and products. But that takes time. (And a whole lot more than just a new logo design.)
Like Rome, McDonald's multi-billion-pound empire wasn't built in a day. It was the reputation of McDonald's that triggered their rise in popularity and the attention of businessman Ray Kroc.
You should think of a brand as what your target audience associates with your business. It's one of the reasons people choose McDonald's over other fast-food burger restaurants today.
A branding agency will help you establish this reputation by working with you beyond the visual creation stage. A bad one will simply design things.  
"Think of your brand as your reputation."
It's a case of considering the user journey in its entirety.
As a brand, ask yourself, what does success look like to you (beyond financial gain)? Perhaps it's to position yourself as the go-to expert for advice on technology, or a business that puts its people first. 
Although you can't decide how the public perceives your brand, you can take positive actions to help influence this thought process through the power of branding.
John Lewis and Waitrose pride themselves on their customer service. How do I know this? Because I've experienced it first-hand. They don't feel a need to include it in taglines in a desperate pledge to force an agenda. It's ingrained into their onboarding process and brand guidelines. 
Try asking a member of staff where the wine section is in your local Waitrose. You'll not only be escorted (if required) to the section, but they'll be on hand to assist you with recommendations.
These are things that matter to consumers and separate them from your run-of-the-mill supermarket or retailer.
You can apply this same level of thinking in the B2B world. It's a matter of finding a branding agency that is willing and has the experience to take you there.  
Logo designs, brand colours and typography are essential parts of branding. But they're not everything. It's like buying a pair of football boots and expecting to be as talented and recognisable as Lionel Messi or Cristiano Ronaldo.
You must take it one step further. Your value proposition and the actions that follow are the things that get you to the top.
A top branding agency will develop a strategy that allows you to build an online presence, word-of-mouth recommendations, customer reviews and conversions.
A top branding agency will help you build your brand equity
Your brand equity is a measurement of a brand's commercial value drawing from consumer perception of the company as a whole, rather than the product or service.
When your brand is well-regarded, new prospects that don't know you will instantly trust you. They see or hear the feedback and assume you're reputable and trustworthy.
The restaurant industry is a perfect example. You could be given an incredible meal, but if the service is dreadful, would you return? Probably not.   
"Your brand is what other people say about you when you're not in the room."
Jeff Bezos – The founder of Amazon
Your brand equity is integral to generating an ROI. Once established, it allows you to charge premium prices. When people already believe in your values and trust you, they will be willing to spend the extra money in exchange for a quality service.
It also makes it easier to market new services or products, as the trust is already there. You see it time and time again. When people are connected to your brand, they become loyal advocates. They sing your praises from the rooftops and return for more.
Trust is so important and hard to come by, particularly in the e-commerce world. However, 7 in 10 customers buy more from brands they trust, so if you can get it right, the growth potential is huge.
To establish trust and generate substantial sales, you need to really get to know whom you're selling to. Your target audience needs to feel like they are being catered for and are receiving a personal experience.   
Customers are naturally drawn to products or services that have a specific function. A brilliant branding agency will develop a way to help you convey the value of this product or service. Again, it goes back to the reason why some businesses can afford to charge premium prices.
What's the difference between brand equity and brand awareness?
The difference between brand equity and brand awareness is based on how you measure them both. The success of brand awareness is based on whether your audience has heard of your brand, while your brand equity is about how valuable or useful they think your brand is to them.
When it comes to choosing a branding agency, you'll soon establish whether they're focused more on one or the other.
Brand awareness is essential to getting your name out there. But without spending any time on developing your brand equity, you won't see a huge impact. It's the brand equity that'll enable you to increase:
The order value per customer
Your profit margins
Sales and leads
Customer retention/loyalty
Take your branding to the next level with a leading brand design agency in the West Midlands.
If you're looking for more than just a one-off logo, tagline or brand design service, you're in the right place.
At eighty3 creative, we go beyond the doing and empower you to think about the bigger picture. Over the years, we've helped many businesses establish their brand identities and create a digital marketing strategy that works in tandem to maximise ROI.
To learn more, get in touch with us today.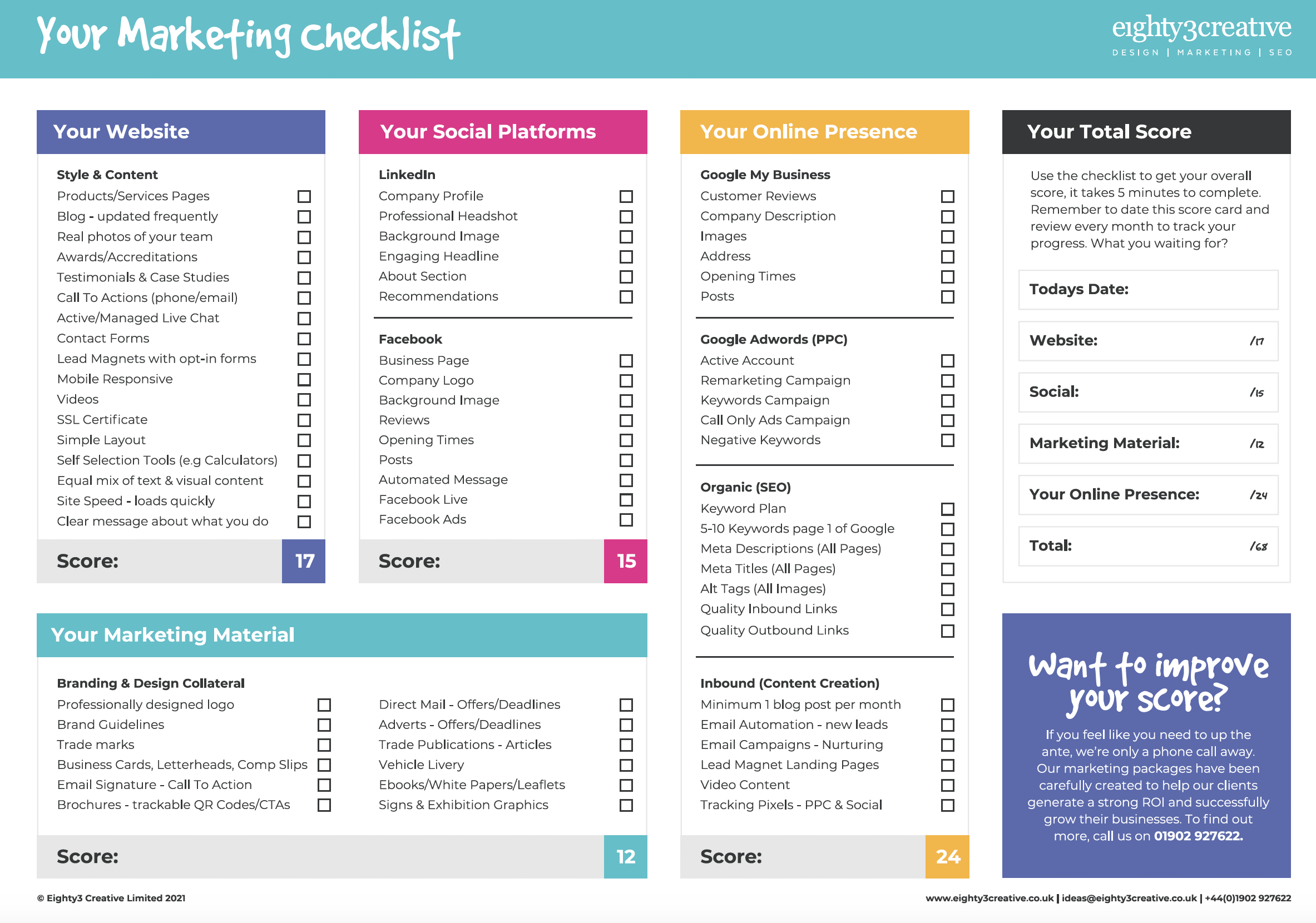 Marketing Checklist Download
Score your marketing activity & plan for 2023
Plus, sign up to our newsletter to keep us up-to-date