How much do SEO and PPC cost?
Discover how much SEO and PPC cost as a collective digital marketing pricing package in this essential guide for small businesses.
What's the difference between SEO and PPC?
Both PPC and SEO use contrasting methods to produce results for brands online but come together to form a more informed digital marketing strategy.
SEO applies to Google and other search engines, where optimised content can rank brands higher in search results. The practice of SEO aims to produce optimised content for brands that drive organic traffic to their website and landing pages while improving their online presence.
It costs nothing to get your website ranked. The only cost concerns the time or service paid to produce the content and keep the site updated. For this reason, it can take longer for content to appear in search engines, and there's no guarantee the content will rank high.
Now, this is especially the case when the keywords or search queries your business is attempting to rank for are very competitive. SEO software can help you see how competitive specific keywords are and what you should be trying to rank for.
PPC, on the other hand, works oppositely. PPC create an ad that gets ranked immediately, but you pay for the position every time a user "clicks" on the link. Hence the name "pay-per-click".
So, while SEO is free to rank, brands essentially pay for PPC, and the cost varies depending on the keyword's competitiveness. PPC ads can begin to rank almost immediately. However, not every user will purchase from your link. 
How much does SEO cost in the UK?
Despite SEO costing nothing to rank and drive traffic to your website, there is the price of resources to consider when doing it yourself. Here is an average list of SEO pricing in the UK for different services and providers:
If you're looking to outsource your SEO services, choose an agency or professional consultant with proven experience.
With many factors and services to consider, an overall digital marketing package can factor in all these variables and produce tangible results for your business.
How much does PPC cost in the UK?
Contrary to SEO, the cost of PPC is easier to grasp from the nature of the process. PPC pricing depends on the network, provider, and paid ad competition.
Here are some average PPC network costs in the UK today:
Google Ads Search Network – £2.00
Google Ads Display Network – £0.50
Google Shopping – £0.50
Microsoft Ads – £1.25
If you choose to outsource this part of your digital marketing to a UK PPC agency, you should expect to pay:
Entry level monthly PPC management – £150-£200 per month
PPC consultant/agency – £325-£1000 per month
Hourly rates depend on the provider, but on average – £50-£100+
Daily rates can start from £400 and exceed £800
Statista reveals the average PPC cost from UK digital marketing agencies in the UK from March 2021 was:
£725 per day
£1,040.9 per month
£1,016.6 per project/campaign
PPC requires expertise to ensure your money isn't wasted by placing your ads in the wrong places and in front of the wrong audience. If you're unaware of PPC best practices, then ensure you enlist the support of a specialist agency or consultant to produce an effective ROI on your PPC investment.
Combine SEO and PPC in a digital marketing package
Despite SEO and PPC being on opposing ends of the marketing spectrum as processes, they prove even more valuable when they combine forces.
While both strategies require investment from your business, the price of ignoring their marketing capabilities could be catastrophic, especially if your competitors are taking advantage.
How do SEO and PPC work together?
As a part of a complete digital marketing strategy, PPC and SEO can work together to provide several benefits:
PPC informs SEO of high-performing keywords for improved CTR
SEO helps your PPC avoid paid keyword traps
Both can reveal hidden keywords within the consumer journey
SEO optimises PPC landing pages
Both inform headlines, title tags, keywords, and content topics
Both can combine to dominate SERPs with ultimate brand exposure
Rather than outsourcing two opposing marketing strategies, combine them within one digital marketing package. Having both sides inform the other will generate a more cohesive process.
How much for a digital marketing package?
A digital marketing pricing package in the UK can start from £700 per month and £2,500 per project/campaign. With packages often customised for clients, it's difficult to put an average price on packages.
Due to digital marketing packages containing more benefits than a single isolated SEO or PPC campaign, a digital marketing package will naturally cost more. However, the opportunities to generate a quick ROI are endless. 
Invest in SEO and PPC as a digital marketing package
By investing in a digital marketing package, you will have SEO and PPC campaigns, plus ongoing content marketing support.
Using one agency to undertake your entire brand's marketing requirements will create a more streamlined and cohesive marketing strategy, encompassing brand identity, vision, and values under one roof.
At eighty3 creative, we offer customisable and competitive digital marketing packages for our clients. Our capabilities include:
Our digital marketing packages can be tailor-made precisely to your business requirements. If you're interested in seeing what we can offer your brand, get in touch today.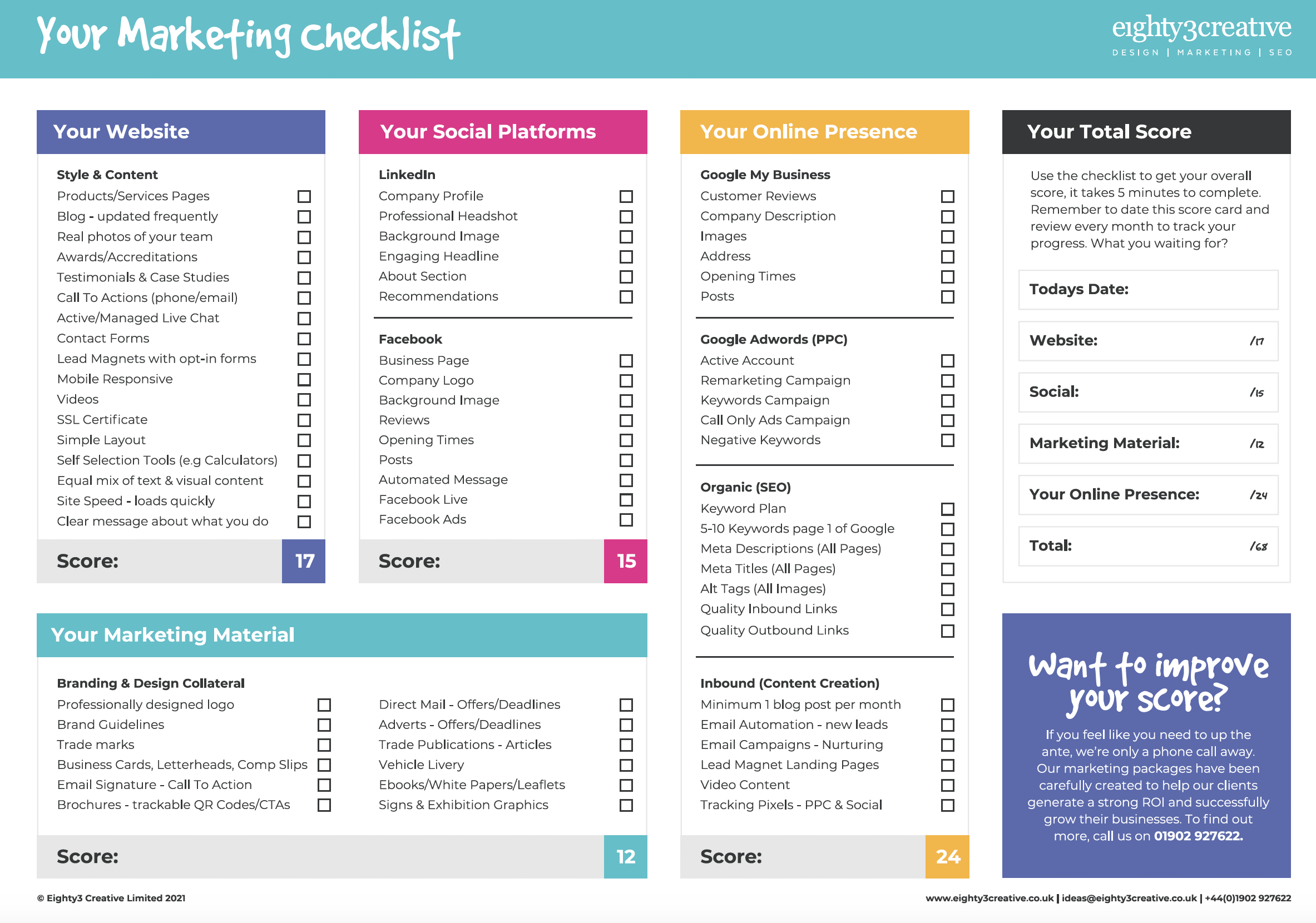 Marketing Checklist Download
Score your marketing activity & plan for 2022
Plus, sign up to our newsletter to keep us up-to-date