WooCommerce vs Shopify: Which is Best?
WooCommerce vs Shopify: Which is best for your e-commerce website design?
Shopify and WooCommerce are two of the most popular platforms for elevating your e-commerce business credentials, but which one is best for you? From costs to conversion rates, discover everything you need to know.
E-commerce is now an indispensable part of global retail, with 2021 online sales amounting to $4.9 trillion worldwide.
Paving the way in the rise of online shopping are WooCommerce and Shopify. Both platforms are two e-commerce giants, with Shopify currently hosting over 800,000 e-commerce stores and WooCommerce owning 23.43% of the e-commerce market share.
However, choosing between the two isn't as easy as pie. So, without further ado, let's explore the pros and cons of WooCommerce and Shopify to ensure you make a smart choice.
While both e-commerce titans have their strengths, each service suits different needs and preferences.
Both WooCommerce and Shopify share ease and convenience in common, which is what makes them so popular. Of the two, Shopify is slightly more simplistic and easier to grasp, but at the price of a lot less control and customisation.
But these introductory comments only tell half the story.
The benefits of WooCommerce
The main benefits of WooCommerce are revealed in the immense flexibility. All types of businesses can sell all types of products, from physical items to external products on other affiliate websites like Amazon.
As a modular system, WooCommerce also includes many features that can be extended through the thousands of plugins available to WordPress.
WooCommerce can accommodate unlimited amounts of products. So, as you scale your online business, you won't have to contend with slow website speeds and poorer Google rankings.
Included in the countless plugins from an enormous WordPress Community, you're granted e-commerce-specific extensions designed especially for WooCommerce. This aligned with the open-source element gives you limitless customisation and control over your e-commerce website.
It also boasts an impressive number of themes that can be utilised to help boost your brand's identity. To be precise, there are at least 1,300 available through ThemeForest and a further 1,122 via the WordPress directory.
WooCommerce vs Shopify pricing
Now, it's hardly a business comparison without doing a thorough price check. So, let's crunch some numbers.
Shopify can only offer fixed prices at various rates, while WooCommerce is much more flexible with cost.
As a plugin, WooCommerce is free. However, there are always additional costs to consider when launching and operating an e-commerce store.
Shopify prices range from £24 to £259 a month.  The pricing structure for Shopify is more conventional and simplistic in structure.
Basic – £24/month
Mid-range – £69/month
Advanced – £259/month
These pricing structures vary depending on whether you're a new e-commerce business or a larger scaling company that requires advanced reporting.
Costs will increase with transaction fees, add-ons, and integrations. Shopify pricing takes a significant step further with the introduction of Shopify Plus. For this advanced service, prices begin at the equivalent of £1523.59 per month.
Despite being more detailed and flexible, WooCommerce pricing is cheaper than Shopify. Here is an average estimation of what you would be expected to pay annually:
Basic – £83.80/year
Mid-range – £228.20/year
Advanced – £ 69/year
Overall, WooCommerce comes in at least half the price of Shopify.
Shopify vs WooCommerce conversion rate
It's extremely difficult to distinguish which e-commerce platform has the better conversion rate due to conversions being dependent on so many factors outside of the e-commerce platform.
For example, conversion rates rely on:
Domain authority or website reputation
Speed of page loading
SERPs ranking
User experience
Branding
Quality of content
Pricing
Both platforms have cases for beating the other with conversions, whether that's Shopify being simpler to establish and operate as a beginner, or WooCommerce giving you greater control and customisable features.
All in all, conversion rates depend on the business, marketing and overall quality of the website.
You can have the best version of each e-commerce platform for your business, but that doesn't guarantee you'll generate leads and drive sales. That's where our e-commerce website design and digital marketing packages come in.
Shopify or WooCommerce: The verdict?
Shopify is arguably an easier platform to get your head around. However, WooCommerce is becoming easier and easier to use and is packed full of extra features.
On the one hand, Shopify gives you slightly less to do but for a greater price, with less control and customisation features.
Whereas WooCommerce is slightly more technical. But this doesn't mean you need to be an expert in web design/development. It's still designed to be accessible and easy to launch for users with basic knowledge. WooCommerce also enables you to fully harness the power of WordPress and save money in the process.
Therefore, WooCommerce is the number one choice if you're serious about enhancing your online presence and growing your e-commerce business.
At eighty3 creative, we supply WooCommerce WordPress website design and development package services for small and big e-commerce businesses.
When it comes to running an online business, we believe WooCommerce is a better option because it grants the user more control, flexibility, and customisation.
As WordPress experts, we can unleash the full power of its capabilities and offer a pay monthly e-commerce service. So, you don't need to invest thousands of pounds upfront before seeing an ROI.
If you're interested in getting your own WooCommerce website off the ground, get in touch with us.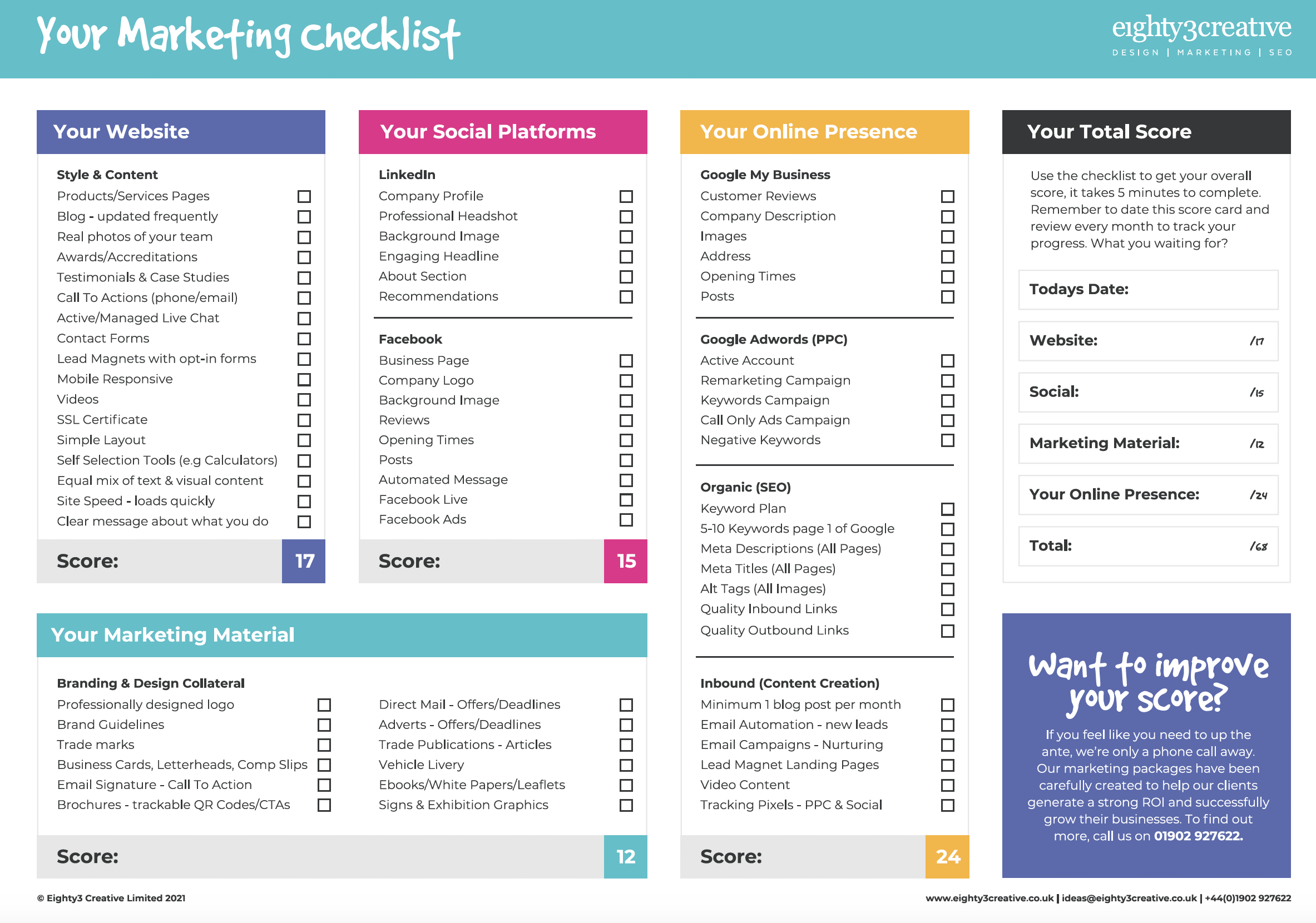 Marketing Checklist Download
Score your marketing activity & plan for 2023
Plus, sign up to our newsletter to keep us up-to-date