5 Problems When Launching a WordPress Website
WordPress design and development can run into problems for users and brands. Discover how to launch a website on WordPress successfully and fix any issues.
In 2022, 835 million WordPress websites are online, totalling a market share of 43% of all websites. But just like anything constantly evolving and improving, there are always inevitable complications.
As a leading WordPress website design agency in Staffordshire and the West Midlands, we come across many common problems when launching a new shiny website.
Whether you're faced with "the white screen of death" or consistently finding database errors, there's a lot to think about.
But fear not, we have the answers. Read on to discover how to launch a website on WordPress without problems. Discover how to launch a website on WordPress without encountering any common issues.
How to launch a website on WordPress?
Before launching your WordPress website, ensure you have defined the purpose for your site. Is it a personal passion project? An e-commerce business? Or an e-learning platform?
I know this seems obvious, but you'll be surprised by how many WordPress websites get launched without a clear purpose or business objective.
Knowing your goals will help you align the user experience (UX) correctly with your target audience while avoiding any development issues later.
Once you establish the purpose for your site with goals and strategy, you can then begin to implement the following stages to launch your website:
1. Select a domain name
2. Choose a web hosting provider
3. Install WordPress
4. Decide on a WordPress theme
5. Set up WordPress plugins
6. Customise your website
This process is the ideal formula for launching your WordPress website successfully. However, you could still encounter a few problems along the way. To prevent any issues during this 6-step process, make sure you:
Download a backup solution before launching
Secure your site with security plugins
Check for 404 errors by adding Google Search Console (GSC) to run a crawl report
Manually test any contact forms
Analyse all images, videos, sliders, and carousels are loading correctly
Check links for any social integrations to the correct social media accounts
Once you've followed these basic steps and avoided any interruptions, it's time to think about the bigger potential WordPress launch problems. Let's explore.
5 WordPress website problems
Hire a specialist WordPress website design agency to solve your problems
WordPress website design and development can become a complex process without expertise or solutions to common launch issues. At eighty3 creative, we're a specialist WordPress website design agency that produces various WordPress websites for our clients across Wolverhampton, Birmingham, Stafford and beyond.
And if that wasn't enough, we offer a digital marketing package with our WordPress website services, which covers design and development for all types of websites, including e-commerce. Our pay-monthly packages include regular maintenance, secure hosting/SSL certificate, and SEO management.
For more information about our WordPress website design, development, and maintenance services, contact us today.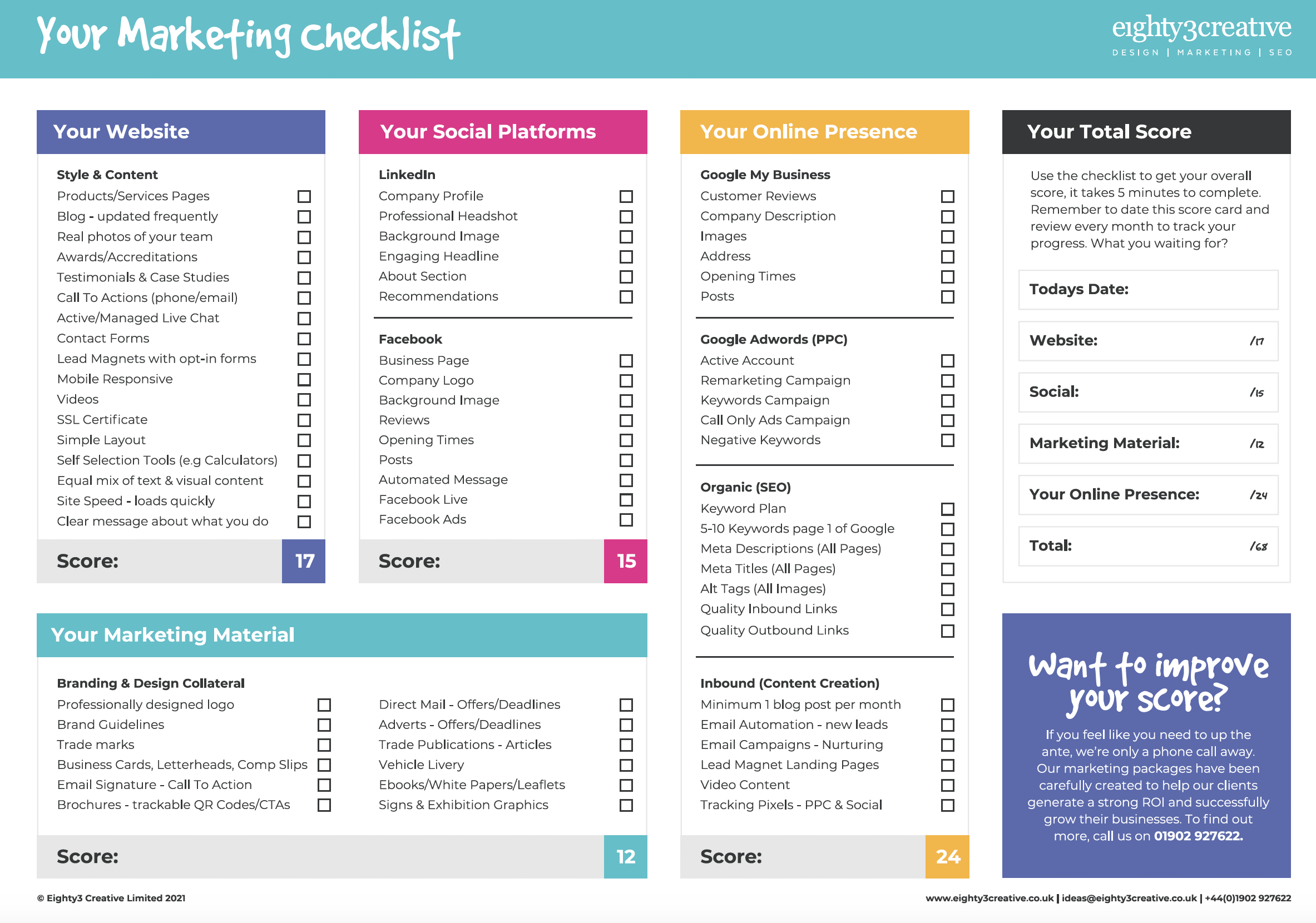 Marketing Checklist Download
Score your marketing activity & plan for 2023
Plus, sign up to our newsletter to keep us up-to-date