Textcards provides an alternative card-sending service with customised digital card designs sent instantly via email or text.
Textcards is changing the way we send greetings cards. Customers can easily pick featured designs or turn customised unique ideas into greeting cards and send them to their desired recipient via email or text. It's a more sustainable way of marking an important occasion.
The service gives the customer complete control over the card's design, enabling them to create personal messages supporting the sentimentality of card giving and receiving.
Unlike most competitors, Textcards enable you to send a 'Gift Voucher' feature and multiple business signatures.
However, for Textcards to establish itself as a leading online card provider, it required a comprehensive e-commerce website package. That's where we came in.
Work
E-COMMERCE WEB DESIGN & DEVELOPMENT
View Site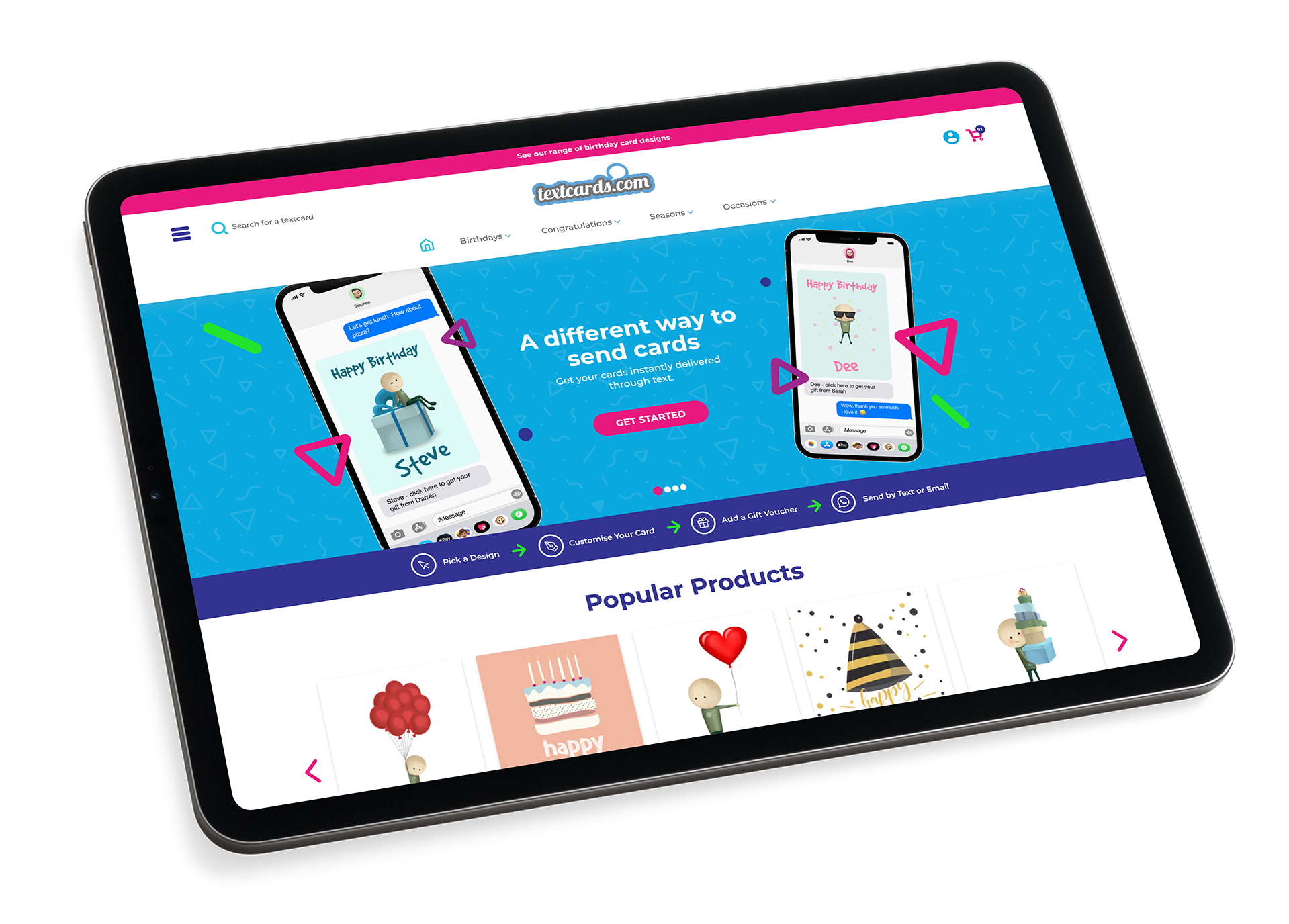 The Brief
Textcards required a new e-commerce website to launch their online business with multiple features and optimised UX.
The brief was both simple and essential. Textcards operates solely as an online company, so the e-commerce functionality is integral to its success.
Through our pay monthly e-commerce website package, we had to build a site which operated seamlessly alongside encompassing the brand's vision, mission, and values.
Displaying services and prices was essential, but the web design had to remain spacious and fun in line with the brand identity.
The client was keen to create a fun and engaging site that matched their vibrant brand identity. However, they didn't want the added features, e-commerce functionality and the vast quantity of products to clutter the website. It needed to look clean and professional.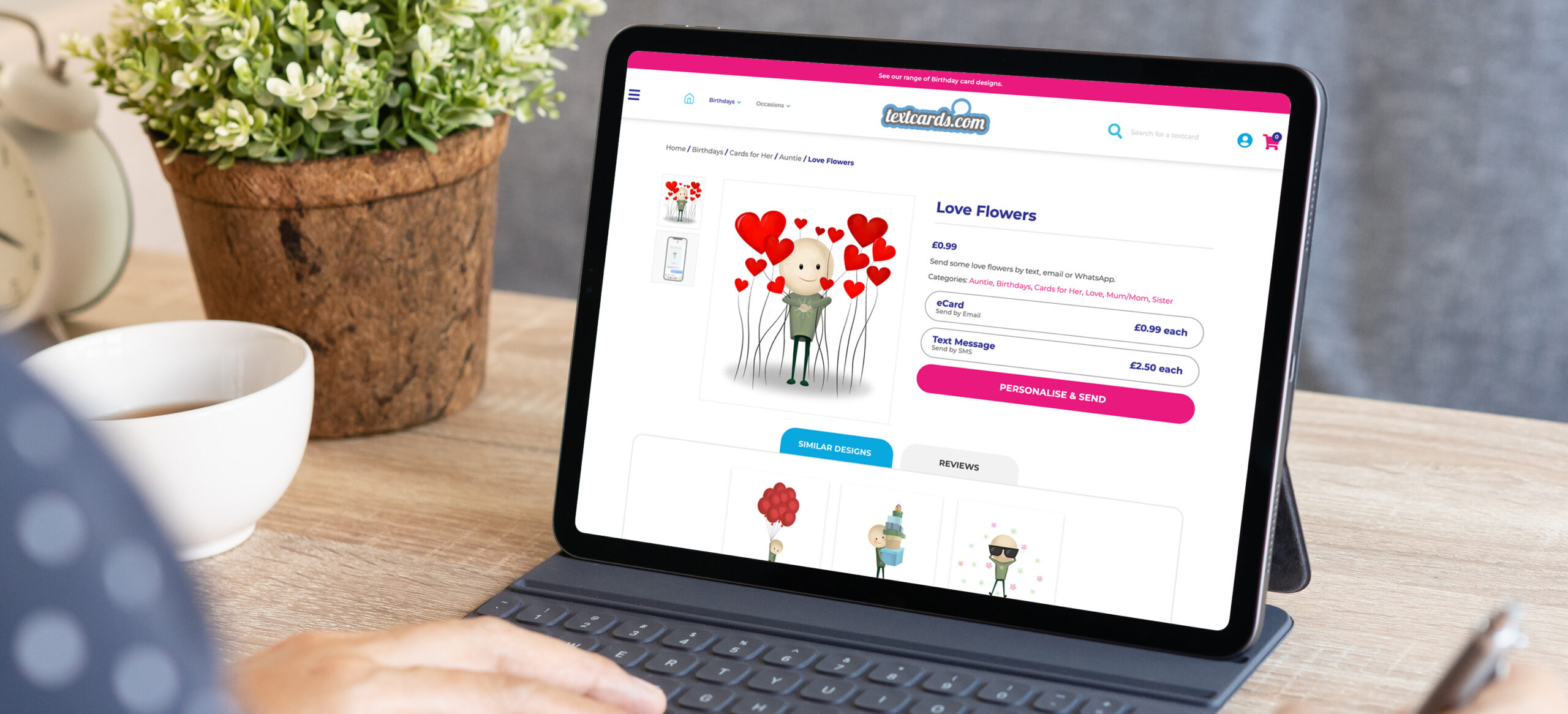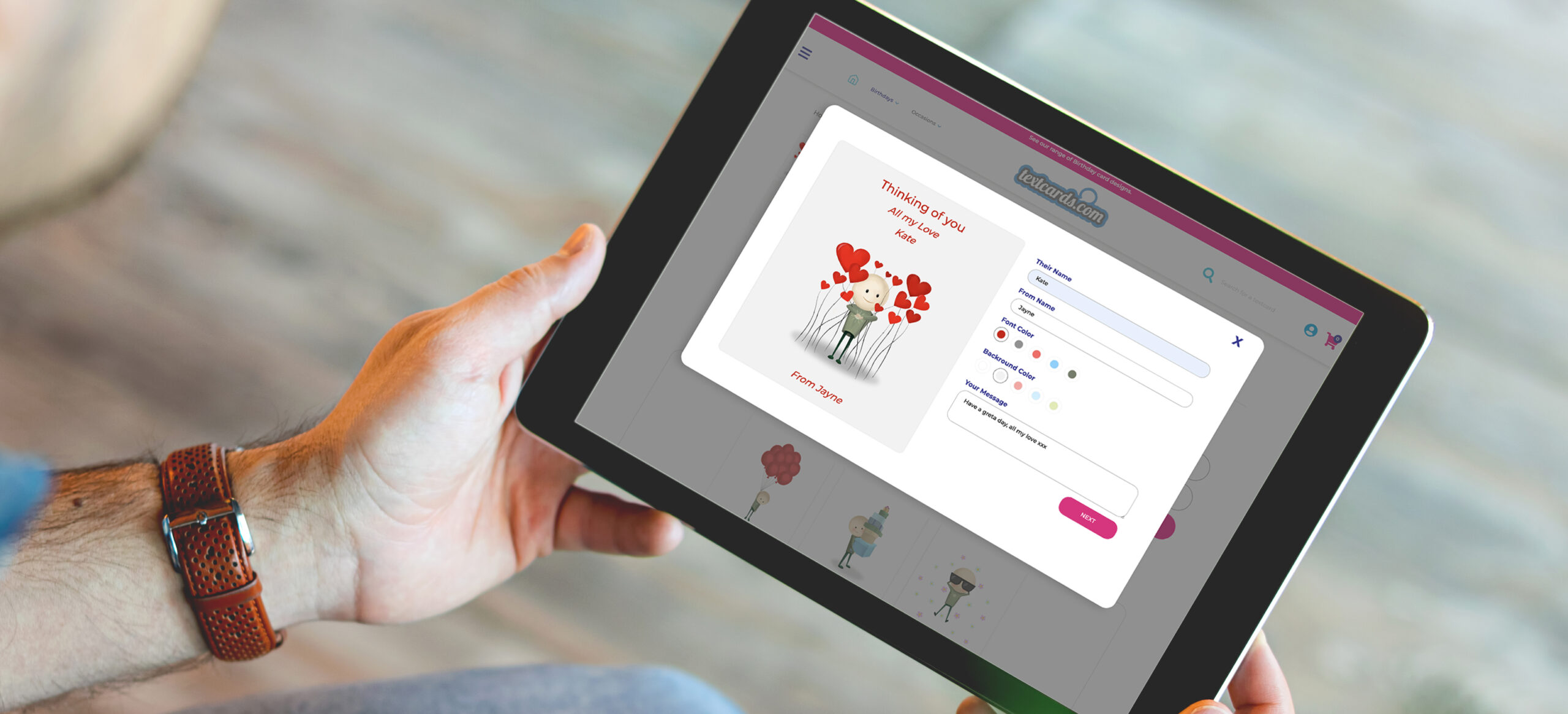 The Result
Our creative agency delivered a pay monthly e-commerce website that gave them a platform to maximise sales and prioritise digital marketing.
We designed Textcards' website with its brand identity in mind.
We chose bright brand colours of blue and pink before a white background. The brand text remained lowercase and double-outlined in a fun and flowing font.
Showcasing unique Textcards design imagery on smartphone screens was vital for the UX to get a taste of the specific service. To highlight the simplicity of the service, we included a simple step-by-step guide just below the opening section, and below that, we showcased popular products with prices.
To help break up the homepage and keep the UX optimised, we included a section of featured designs before a call to action at the bottom. This addition allows customers to sign up for the latest Textcards designs, offers, and discounts.
In the hero banner, we kept things simple with directives for 'Birthdays' and 'Occasions' before a 'search feature' and trolley icon when making purchases.
Overall, the initial design was fun and simple, yet bursting with the possibilities Textcards offers their clientele.
We have already implemented a Google Adwords campaign which is gaining traction in a competitive greetings cards industry. Looking ahead, we are working with this online card company to develop a robust digital marketing strategy involving quality content, SEO, and social campaigns.
Already, Textcards is enjoying the benefits of investing in the pay-monthly e-commerce service. Because Textcards pay for a service, not a product, they benefit from an e-commerce website being constantly optimised and updated with new features and additional pages.
Does your business need a pay-monthly e-commerce website package? 
If your business would benefit from an e-commerce website, you should get in touch with eighty3 creative.
Unlike other digital marketing agencies and web developers, we provide exclusive pay-monthly packages customised for you. From design and branding to web design and digital marketing, we're proud to help support and advance fellow brands across the West Midlands and beyond to establish themselves within the digital world.
Discover more about our e-commerce pay-monthly packages by phoning 0121 389 3033 or emailing ideas@eighty3creative.co.uk. Follow us on Facebook, Instagram and LinkedIn.