Olivia's Townhouse is a sophisticated bar and restaurant, complete with VIP service, contemporary cuisine, and spectacular entertainment.
Olivia's Townhouse is renowned for its classy, contemporary, and impressive service. Currently comprised of four venues in Birmingham, Nottingham, Sheffield, and Leicester, it's only a matter of time before this strong, sophisticated chain expands into new territories.
At Olivia's Townhouse, you can expect VIP service, signature cocktails, live music and an incredible atmosphere. It's the perfect venue for parties looking to enjoy bottomless brunches and lavish lunches.
Beyond a majestic array of drinks, food, service and entertainment, Olivia's Townhouse is renowned for its beautiful décor and interior design. Complete with vibrant floral walls, private booths, and neon lights, this signature aesthetic is the most distinctive characteristic of the brand.
In having such a strong brand identity, unbeatable venues and outstanding experiences, Olivia's Townhouse needed a new web design to match its exciting and enviable reputation.
Client
Olivia's Townhouse
Work
WEBSITE
View Site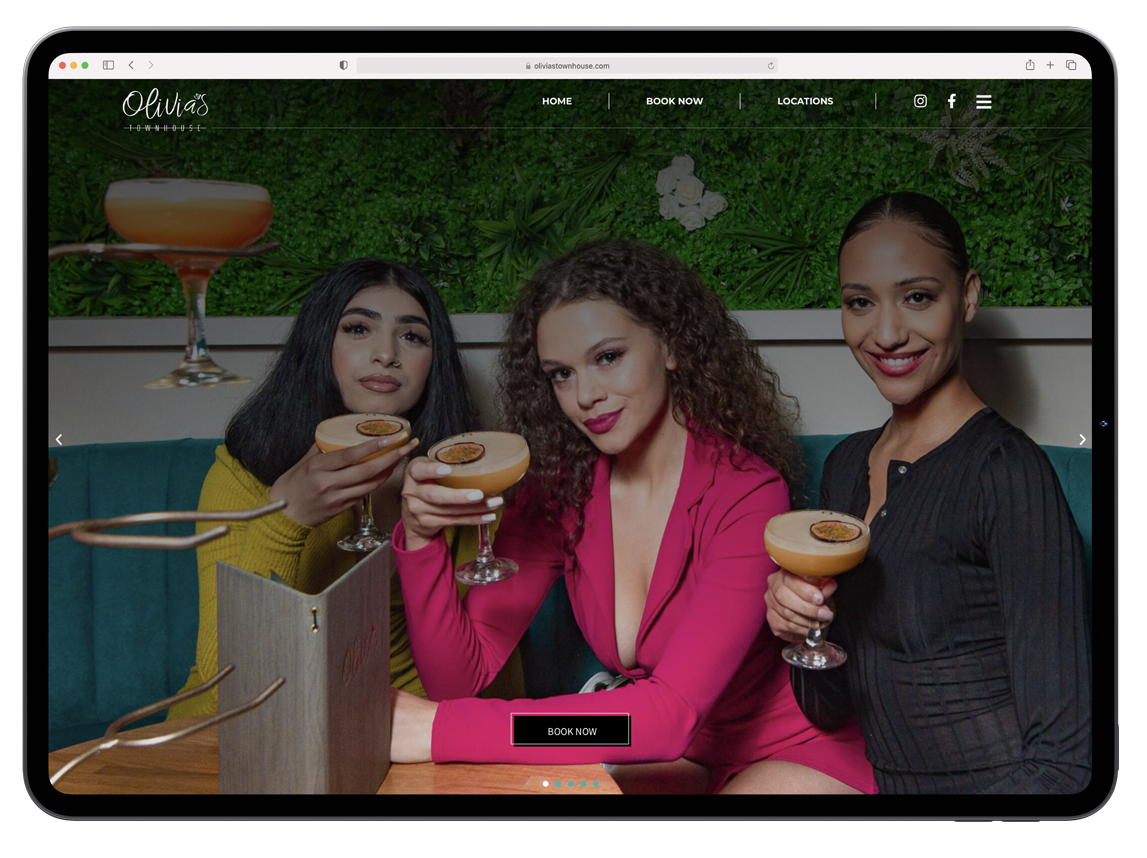 The Brief
Olivia's Townhouse required a sophisticated, stylish, and contemporary new web design to reflect its vibrant brand identity. 
When stepping inside one of Olivia's Townhouses, it's not difficult to catch the vibe of the place. The client wanted to transfer that energy and create a radiant new web design that did the brand justice.
The website design needed to encapsulate the variety of services without compromising the user experience (UX). It had to be slick and classy to reflect a successful chain of venues that took pride in providing the very best service, entertainment and environment.
We also had to optimise the site ready for creative digital marketing campaigns. The original website was slow, clunky, and one dimensional. This created a poor user experience (UX) removed from the customer experience received at the venue.
Although Olivia's Townhouse was causing a storm throughout the UK, the online presence wasn't following suit. We aimed to supply this brand with an eye-catching, fully optimised website that demanded more online authority and aligned with their in-person customer service.
The Result
Now Olivia's Townhouse has a new web design that is a true representation of a stunning, exciting, and enviable brand taking social scene by storm.
Olivia's Townhouse new web design now belongs in the same league as the brand's monumental venues. To achieve this outcome, we focused on building a fast, interactive website design. In today's world, slow site speed can be a real deal-breaker. Now, the page speed has improved drastically on the new site, giving their visitors a slick, smooth, and stress-free online experience in line with their venue experiences.
We made a conscious effort to utilise the vast range of stunning imagery they had available. For instance, we included a video functionality on the homepage hero banner and multiple images throughout the site to enable visitors to get a flavour of the atmosphere. This approach also helped us create a more approachable feel and break up the different website sections and text.
We chose radiant turquoise as the dominating colour throughout the web design. This colour created a relaxing yet energetic tone to reflect the multiple moods the venues can accommodate.  Lastly, we optimised the website to be ready for any future SEO and PPC campaigns. Through this optimisation, Olivia's Townhouse can spread the word and continue to grow as a chain.
Overall, Olivia's Townhouse is over the moon with its new web design. It was a pleasure for us to create such a stylish, slick, and sophisticated website for a really exciting and entertaining brand.
Searching for a website designer in Wolverhampton?  
If you need a new WordPress website design or an eCommerce system building to support your digital marketing campaigns, we're here to help.
At eighty3 creative, we're passionate about helping businesses make a quick return on investment (ROI) by focusing on the entire digital marketing strategy.
To learn more about our website design and digital marketing packages, get in touch with us today by phoning  0121 389 3033 or emailing ideas@eighty3creative.co.uk. Follow us on Facebook, Instagram and LinkedIn.