Insolation Solar are a family-owned business based in Wolverhampton with over 13 years of experience in the solar trade.
Insolation Solar installs solar panels in residential, commercial, and agricultural settings across the country, harnessing the sun's power without harming the planet.
They help their customers save thousands on energy bills and offer excellent support and advice to their clients before, during, and after the installation process.
Insolation Solar's professional and respectful team will understand your needs better than anyone, thanks to the continuity that comes with being a family-owned business.
But before they could shine as a company, they needed a website and an online presence. That's where we came in.
Work
DIGITAL MARKETING | SEO | PPC | WEBSITE DESIGN FOR START-UP
View Site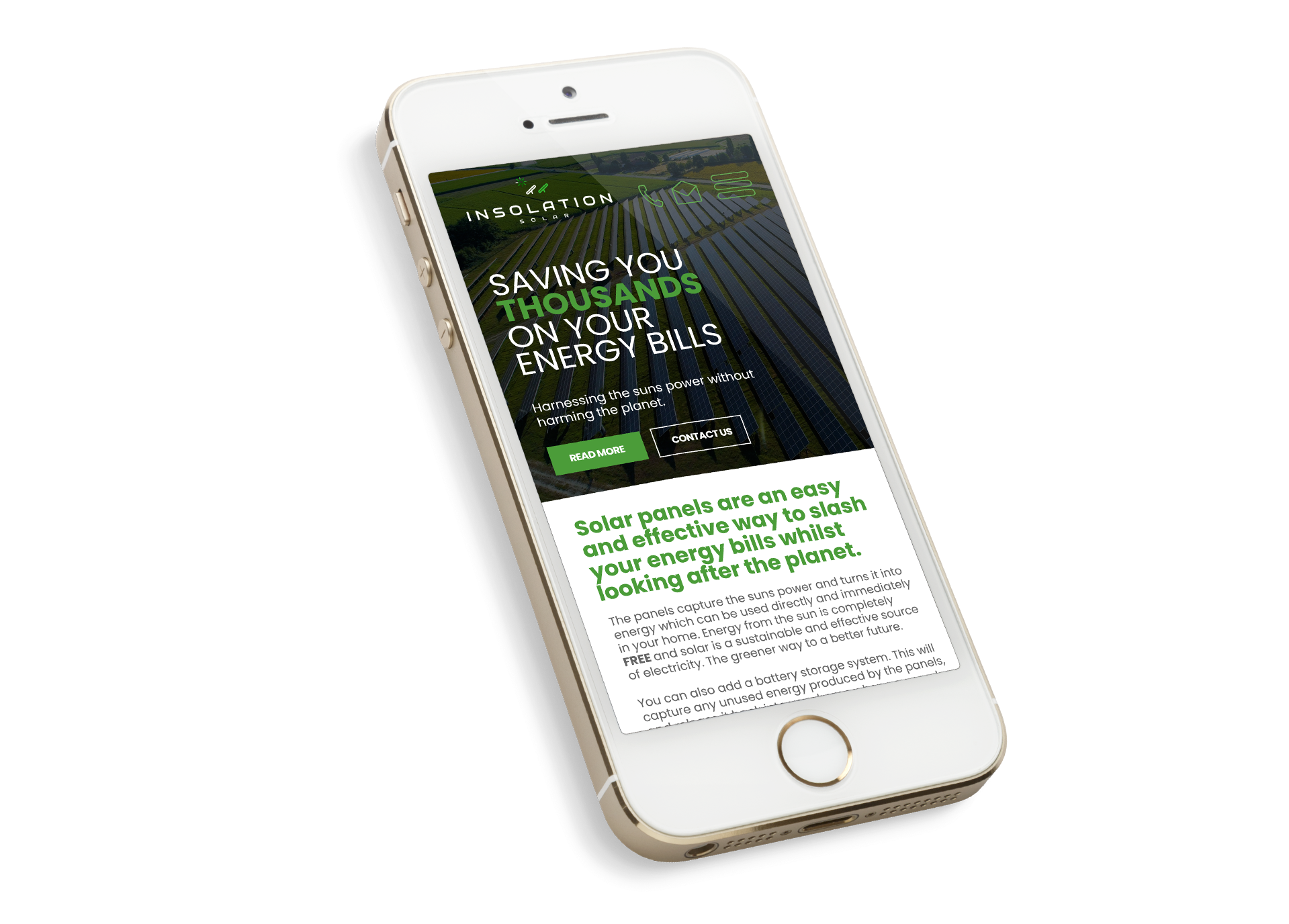 The Brief
Insolation Solar required a new website and efficient digital marketing techniques to reach new customers.
Growth and reach were at the forefront of our minds with this brief. With 97% of users searching online to find a local business, companies must have a solid online presence.
Aligning with the nature of the content and its brand values, Insolation Solar required a startup website design that would show off its work and make it easy for customers to reach them and find out more information.
The key was to keep the site simple and scale up as the company grew. Once we had the new website live, it was time to invest in PPC and SEO to generate a high ROI.
The Result
A new brochure website and a cohesive digital marketing strategy have pushed Insolation Solar's sales through the roof.
As we started from scratch with the website, we had some creative freedom to experiment and find what worked best to fit the brief. We knew that it needed to be simple but eye-catching, with images and video being the main focal point to set the scene and bring the incredible work they do to life.
The colour green seemed like a natural choice, given the benefits solar installations have on the environment. It also stood out against the black-and-white hues, making it easier to highlight key bits of information.
We wanted to make it easy for new or returning customers to contact Insolation Solar. To make it simple for new and returning customers to contact Insolation Solar, we added several call-to-action buttons throughout every page.
The website has nine pages to ensure all the important and much-needed information was on one site, and we could help them rank for key search terms. As solar installation is such a complex and large investment for some, we wanted Insolation Solar's trusted expert knowledge and skills to come through in the copy.
Once the website was live, we developed a robust digital marketing strategy to drive traffic and generate leads.
We created a blog on the website to show off their expertise and enhance their organic presence. This way, Insolation Solar will see more organic traffic coming to their site based on what people are searching for.
Additionally, we used PPC to drive more instant leads, support our SEO keyword strategy and enable our client to produce a quick ROI.
Combining this digital marketing strategy with the new website has helped establish this family-run start-up into a professional, trustworthy and profitable business.
Discover more about our digital marketing and website design packages for start-ups
If you're looking to launch your start-up business, don't cut corners on your website design, branding and digital marketing.
At eighty3 creative, we've helped transform many businesses in the West Midlands since 2008 with ROI-driven packages.
To find out more about our digital marketing and website design services, call us on 0121 389 3033 or send an email to ideas@eighty3creative.co.uk. In the meantime, don't forget to follow us on social media for more handy tips and updates: Facebook, Instagram and LinkedIn.