Exclusive Sofas & Chairs is a market-leading supplier, manufacturer and wholesaler of stylish upholstery and soft furnishings.
Exclusive Sofas & Chairs have over 40 years of experience providing a comprehensive range of upholstery designed furniture of various materials and styles. Specialising in motion furniture, manual and powered, Exclusive Sofa & Chairs deliver to over 300 independent retail customers across the UK from their West Midlands-based warehouse facility.
After establishing themselves as a market leader, Exclusive Sofas & Chairs required fresh branding, name creation, and a new web design, alongside business cards and image rending.
We were entrusted to elevate their business onto the modern digital and traditional stage with a complete rebranding project. It was essential to retain the company's professionalism, experience, and quality through consistent elements applied to its identity across all design features.
Client
Exclusive Sofas & Chairs
Work
WEB DESIGN & DEVELOPMENT | BRANDING
View Site
The Brief
Exclusive Sofas & Chairs required a new website to showcase their furniture, alongside a brand name, fresh overall branding, business cards, and image rendering.
Exclusive Sofas & Chairs wanted a modern feel to suit their ideal consumer lifestyle. With over 40 years of experience, we wanted to retain this experience with the quality, trust and professionalism rightly associated with the brand while injecting some modern energy through the branding and design.
The overall brief to modernise Exclusive Sofas & Chairs would be supplied with new branding and design features. As a complete rebranding project, we relished the opportunity to showcase our marketing and design package capabilities for another local business based here in the West Midlands.
Our main task concerned developing the new website where it was essential to display the various styles and fashionable appeal of their exclusive sofas and chairs. As the "shop window" for their business, we had to create a web design that effectively promoted this distinct range of stylish upholstery and speciality motion furniture.
We found their speciality luxury leather and fabric recliner models was the immediate USP for their business to advertise. However, we had to exhibit this USP without eclipsing their attractive range of modular corner units.
Creating a "showroom" like user experience (UX) with simplistic navigation and gallery features was key to displaying their exclusive products as intended. While the website was the main component of the brief, it was also vital to create a brand name, logo, image rendering and business cards to maintain brand consistency.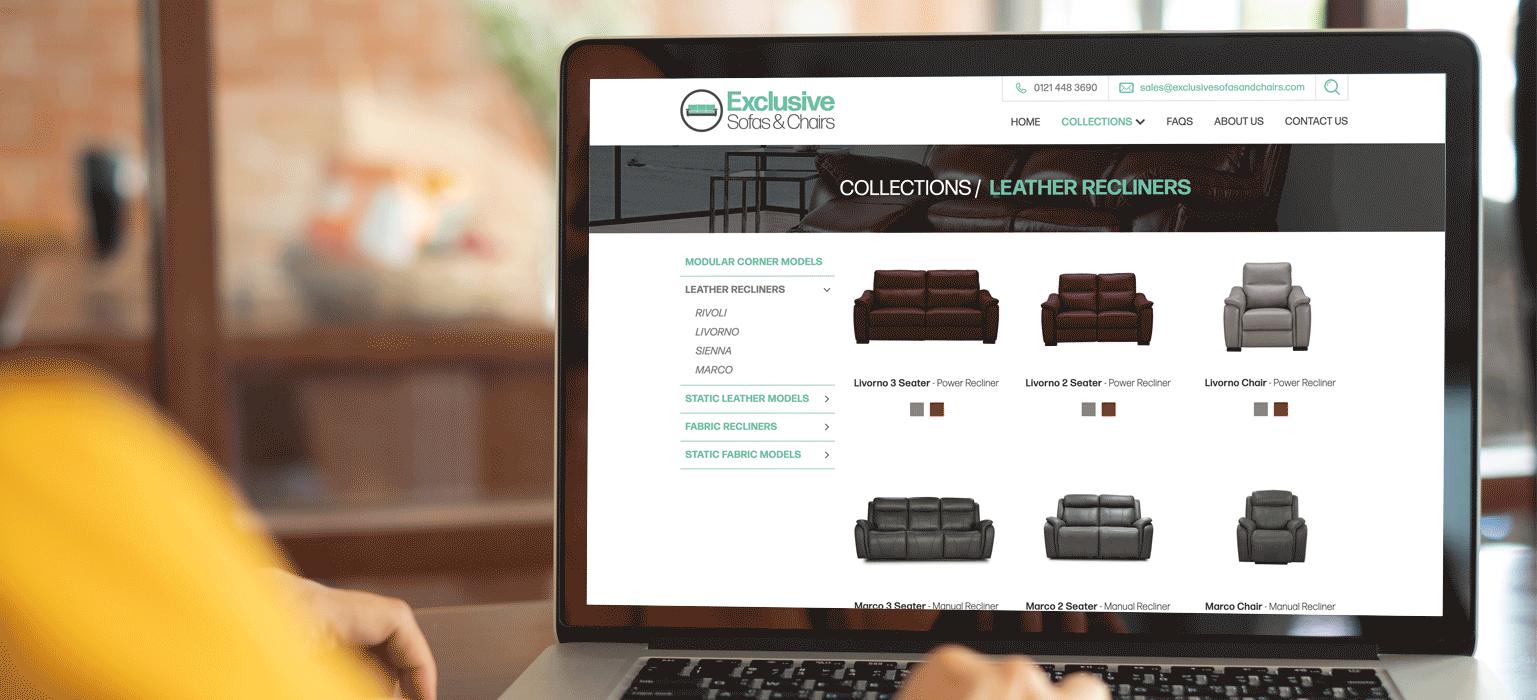 The Result
Eighty3creative provided a comprehensive branding, design, and web development package for Exclusive Sofas & Chairs.
The first thing was finding the brand name for the business. "Exclusive Sofas & Chairs" guaranteed simplicity and sophistication while encompassing the exclusive nature of the furniture and service.
Once we established the name, we combined a simple pastel fern green with an elegant black font for the brand name, next to a circular framed soft sofa image of the same colour combination for the logo design. We felt these brand colours ushered the chic and modern character the brand desired to establish.
Developing the website with the "showroom" UX at the forefront of the design was the clear vision for the website. Polished high-quality imagery of various furniture and upholstery was enlarged via our image rendering and placed before a white background to create a sense of space behind the design.
Engaging the consumer involved room sets to enhance the imagery of the furniture by encouraging a more virtual representation. Incentivising the consumer to imagine the products in their home was a keen selling point which we exhibited through the web design.
Several features to enhance the UX included 'rollover' effects revealing how the motion furniture reclines. Colour swatches, downloadable spec sheets and a search bar facility gave the user a sense of complete control over their website experience.
Finally, we designed business cards in line with the brand colours, tone and overall identity.
Overall, our branding and web design package proved successful as promised on all accounts for Exclusive Sofa & Chairs.
Are you seeking any branding or web design services for your business?
If you're interested in a complete branding and web design package service to pronounce your brand onto the digital landscape, please connect with us. At eighty3creative, we offer exclusive services tailor-made for your business. Whether it's design, branding, web design or digital marketing, we've supported and developed multiple brands in the West Midlands and beyond to become better established within the digital world.
You can learn more about our design and marketing packages by phoning 0121 389 3033 or emailing ideas@eighty3creative.co.uk. Follow us on Facebook, Instagram and LinkedIn.