Air Rentals supply luxury city accommodation, guaranteeing their clients always enjoy a unique and unforgettable experience.
Air Rentals offers luxurious living at affordable rates. This leading local brand offers a vast selection of award-winning apartments in the UK, accommodating leisure breaks, weekends away, local events and business trips.
Air Rentals always aims to deliver a personal, flexible, and stress-free service. Each apartment is furnished elegantly with modern facilities and the latest technologies.
With a focus on exceeding customers' expectations, Air Rentals were keen to enhance the user experience (UX) and update its brand identity as Lotus Living.
Work
BRANDING | WEB DESIGN & DEVELOPMENT
View Site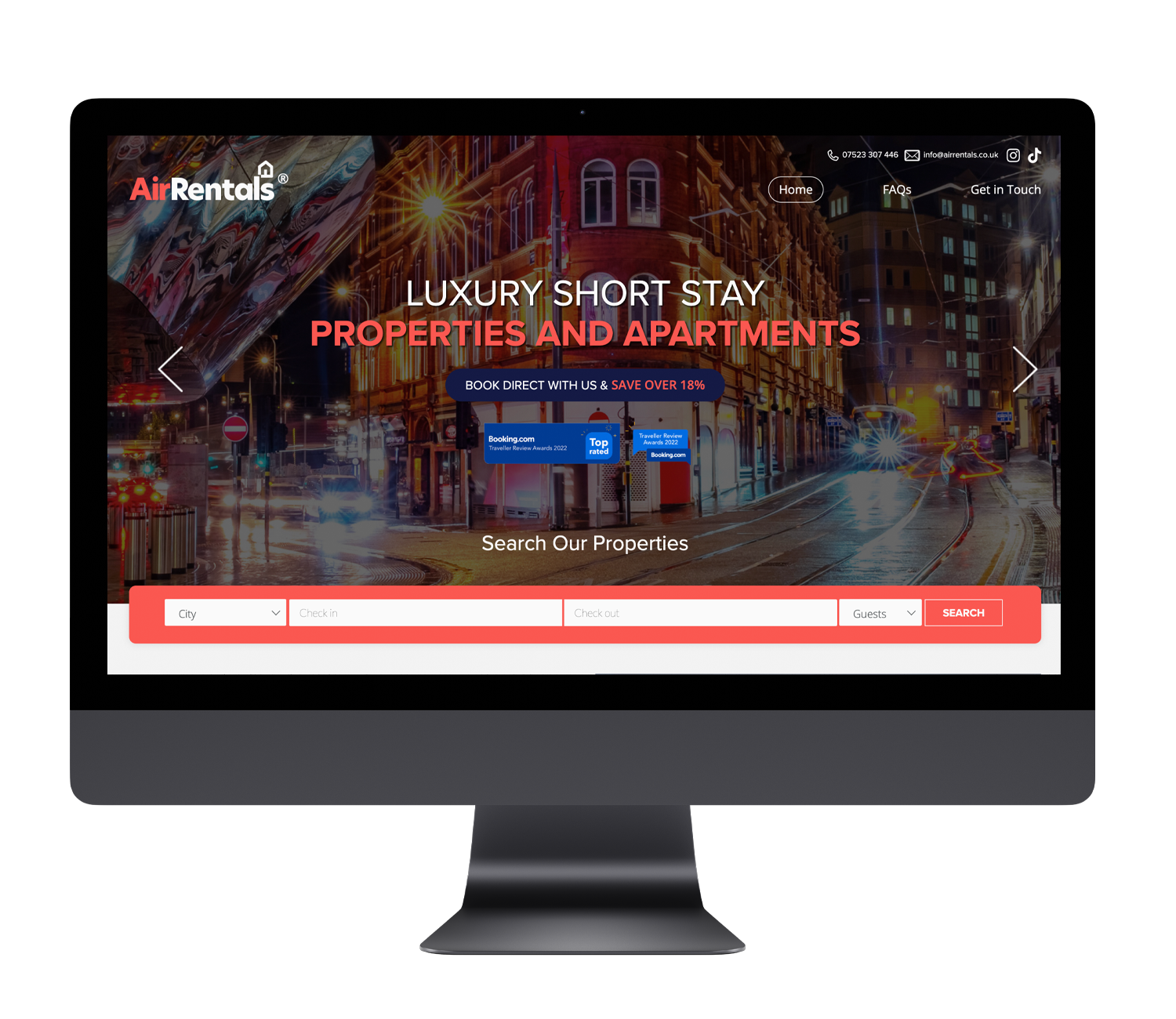 The Brief
Air Rentals needed a new website to display the brand's reputation for providing elegant and affordable accommodation, alongside the branding, brand guidelines and quality imagery to match.
Aligning with its brand values, Air Rentals required a website which prioritised its consumer experience. Ease of navigation and intuitive design features were on the bill to help enhance the user experience (UX).
A significant section of Air Rentals' target audience is busy business-minded professionals. Appealing to this demographic required time-sensitive features to suit their online user behaviour.
However, Air Rentals didn't want the website to appear too basic and minimalistic. They wanted something that aligned with their commitment to the latest technology. Finding the balance between advancing the UX and keeping things simple represented our main challenge for this project.
Other key elements of the branding and website design package included:
– A full-rebrand
– Brand naming
– Iconography creation
– Logo design
The Result
A new website design and rebrand have enabled Air Rentals to position themselves among the leaders in luxury city accommodation.
Developing the brand to encapsulate luxury and professionalism was our first task. Beginning with the name, renamed "Lotus Living" to "Air Rentals". This new name was instantly more memorable and commercially accessible.
The next step was to choose the new brand colours for the brand and the new website. We thought the white, red and blue chose white and red colours were a perfect choice. On the website, white keeps things light, neutral, and clean, while blue and red represent both sides of corporate professionalism and the pleasure associated with leisure.
This tone translated to the brand logo, where we kept things balanced with bold yet soft features to the font and simplistic icon. We combined these three brand colours throughout the web design to help space sections and create easy navigation to enhance the UX. The hero involved landscape imagery of night-time cityscapes for our apartment locations.
The shifting panoramic style for the hero banner imagery created the effect of movement and travel. Accompanying this theme with a night-time setting helped create a sense of short-term accommodation suited to business trips and events.
In the centre of the imagery, we included call to actions with discount details and accredited reviews beneath to establish trust. A balanced blend of colours, font, imagery, text, and space gave Air Rentals a web design to suit both professional and leisure.
After finishing the branding and web design, we created a set of clear brand guidelines to help Air Rentals remain on-brand across all communications. Consistency is crucial in building trust and credibility.
With the help of our branding and web design package services, Air Rentals now have the foundations to push on and take a greater share of the short and long-stay accommodation market.
Could your brand benefit from website design and branding services?
At eighty3 creative, we offer comprehensive branding and web design packages service that can be customised to suit your needs. Our services are based on adding value and ensuring you generate a quick ROI.
Our reputation as web development and design experts has serviced multiple businesses across the West Midlands and beyond. Discover how we can elevate and enhance your brand in the digital world by phoning 0121 389 3033 or emailing ideas@eighty3creative.co.uk.
In the meantime, follow our journey on Facebook, Instagram and LinkedIn.