How much does it cost to build a website in the UK?
Article by

Amie Whale
Here's everything you need to know about what a website costs to design and build in the UK.
What does a website cost? It's a question our website design agency gets asked all the time.
In truth, the answer to it depends on several variables. The best way to establish what an effective, quality website costs (and looks like) is to break it down into the following sections.
Different levels of website designs and their costs
If you just want a cheap website design, you'll get a basic, templated result which will struggle to leave a positive impression on customers you need to generate business and enhance your search-ability online.
On the other end of the spectrum, you can spend thousands of pounds on a dynamic, eye-catching visual website design, but subject your visitors to sluggish load times and a dreadful UX (user experience) in the process.
Below, we've broken down the different quality levels of website design and given you a rough idea of costs.
Basic website design cost (£0-£1,000)
If you have a limited budget, this is the band for you. Starting with the DYI free website template designs/website builders, such as Wix or Squarespace, which are free to use and only require relatively small hosting fees which you can read about below.
While some people might be able to knock something decent together, a vast majority find using free website template designs unreliable, time-consuming and a hindrance to ranking on search engines.
For the best possible results, we can provide your business with a simple one-page website starting from £700.00 + VAT. These are designed from scratch with bespoke coding using WordPress, so you can easily change text and upload images yourself.
The main reason to invest in a paid one-page website design instead of using a DIY website builder is that you're buying a bespoke design created by an expert website design agency that nobody else has. This also includes a bespoke code which isn't replicated across the internet and the ability to add pages as your business grows.
Example of a basic website design: Everest & Co Umbrella Solutions
Custom/brochure website design cost (£1,000-£7,000)
The next step up from your basic cheap website design is the perfect option for SMEs looking for a professional website with multiple pages.
To put it simply, a brochure website is a site that doesn't take any kind of payment but shows your products, services, blogs, case studies via different pages. It also asks visitors to get in touch with you using contact forms, tap to call buttons and often provides valuable content via a free PDF download.
With a brochure website, you'll get a personal touch and an added level of creative flair which can maximise your branding.
While the price for a brochure website in the UK depends on functionality, basic developer costs usually include full integration with social media platforms, Google Maps and Google Analytics. However, the price can increase if you want to integrate email software such as Mailchimp or Campaign Monitor.
The more functionality you need such as an events booking system and the more pages you require will impact the price. The best way to determine your needs is to do a quick audit and plan how many pages you're likely to need to boost SEO, improve the UX and increase leads.
Example of a custom/brochure website design: Technology Law Alliance
Custom feature or e-commerce website cost (£3,000-£25,000)
If you want to maximise online sales, it's worth investing in a reliable e-commerce website design. The very best examples look clean, stylish and professional, and integrate your entire order management system – which requires time.
Building a custom feature website also needs a lot of planning, coding and development time to ensure the functionality is of the highest quality.
Example of an e-commerce website design: Woolery Forbes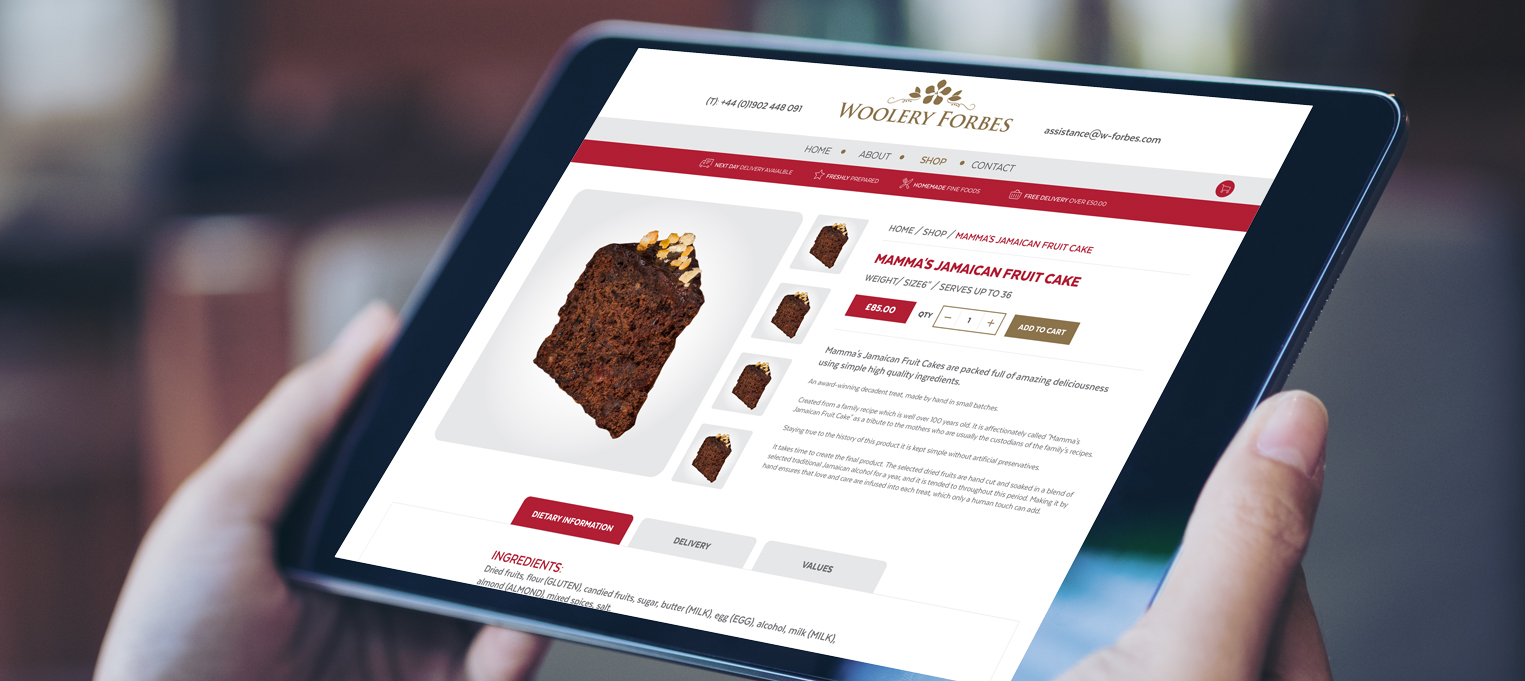 High-end website design cost (£10,000-£50,000+)
If you're searching for the average cost of a website design for small businesses, don't let this price category put you off. This is strictly for the Audi-type brands who have never-ending budgets and rely on optimising their visual branding to sell products.
These website designs are custom created without any templates and offer advanced functionality. Some will be database driven and will update content on an automated basis, based on artificial intelligence/the analysis of consumer habits.
Other website design costs to consider
As well as the one-off cost of building a website, you need to consider the ongoing technical expenses such as purchasing and keeping a domain name, web hosting and SSL certificate.
Once again, the prices depend on which band you choose to go with. For example, if you create a DIY website using Wix, web hosting starts from only £3 per month to simply connect your domain, all the way up to £18.00 per month for unlimited bandwidth, the removal of Wix ads, a free domain and various SEO boosters.
On average, a domain name usually costs around £9.99 per year from GoDaddy. Although, there are often deals which involve buying several domains or getting it cheaper for the first 12 months.
As for an SSL certificate, which provides authentication for your website and enables an encrypted connection, this is around £120 per year.
However, if you use a website design agency like us, we provide this all under one simple month cost, starting from £14.50 + VAT. This eliminates the need to engage in multiple companies and run the risk of getting overcharged.
Outsourcing your website design
A freelancer or website design agency?
The next thing to consider with the cost of a website in the UK is thinking about whether you want to hire a freelancer or digital agency/website design agency to build it for you. That's unless you want to go it alone.
With a freelancer, you'll get:
A skilled individual who charges less, but may not be as experienced in all areas of website design, development, content creation, marketing and SEO.
Someone who has to juggle multiple clients on their own and can't always amend things immediately.
A freelance website designer will cost you anywhere between £25-£50 per hour or £200-£300 per day.
With a digital agency or website design agency, you'll get:
A whole team working for you, with different individuals specialising in one or two components.
A wider array of services, including marketing and SEO, which are both imperative if you want to search engines to rank you and customers to find your website.
A bigger team who can support you in a variety of ways.
A digital agency or website design agency will cost you an average of £50-£200 per hour or £300-£1,000 per day.
While the costs of getting a freelancer to build your website may sound more appealing, it can often cost your business more in the long run. This is because the length of time it takes to build, maintain and improve your website over the next year or so will take a freelancer a lot more time than if there was a team on hand to help.
An agency will have more experience, a larger client base and a vast array of skills to help create bespoke solutions as well.
So, how Much Does a Website Cost in the UK? In summary it really does depend on your requirements, If you'd like a more specific quote from a leading digital marketing and website design agency from the West Midlands, get in touch with our team at Eighty3 Creative today.
To see examples of our website design work, take a look at our case studies and don't forget to follow us on Facebook, Instagram and LinkedIn.
Ebook Download
Your Comprehensive Logo Design Checklist.
Plus, sign up to our newsletter to keep us up-to-date